fall fashion from amazon.com - under $20!
I have become obsessed with buying things on Amazon. With two young kids I rarely have time to get out and go shopping and I love the convenience of laying in my bed late at night, browsing Amazon, ordering something, and having it at my door two days later.
For fall/winter I have a few awesome and adorable finds that will be pretty much all you'll see me in for the next few months!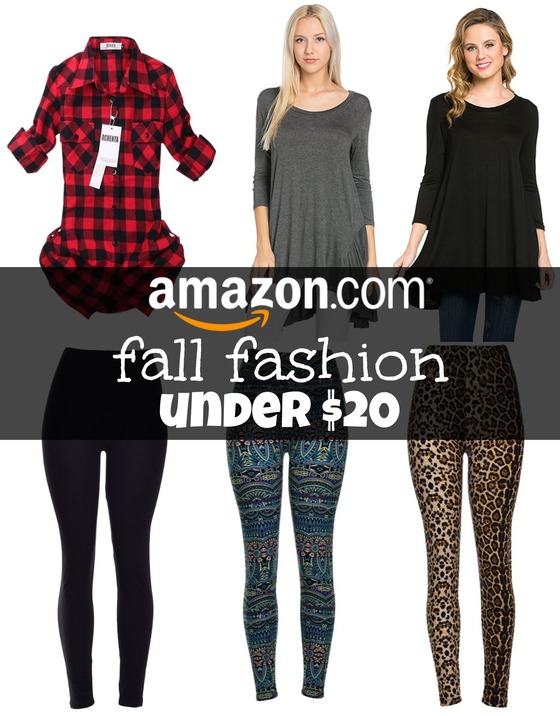 It all started with this shirt, I got the classic red and black buffalo plaid and then a few weeks later as a bridesmaid gift my friend got us all a super cute blue plaid! Word of warning, these shirts have straight up crazy Asian sizing. The shirt I bought myself is a 4XL which is equivalent to a US 10, it fits fine but is more fitted vs. more relaxed. When my friend ordered the bridesmaids shirt I had her go one size up to a 5XL and that one is definitely more comfortable. The quality on these shirts is amazing. When I bought mine at the end of August it was $11.99 and it's showing up as $19.99 right now, still well worth it, but hopefully they will drop the price back down.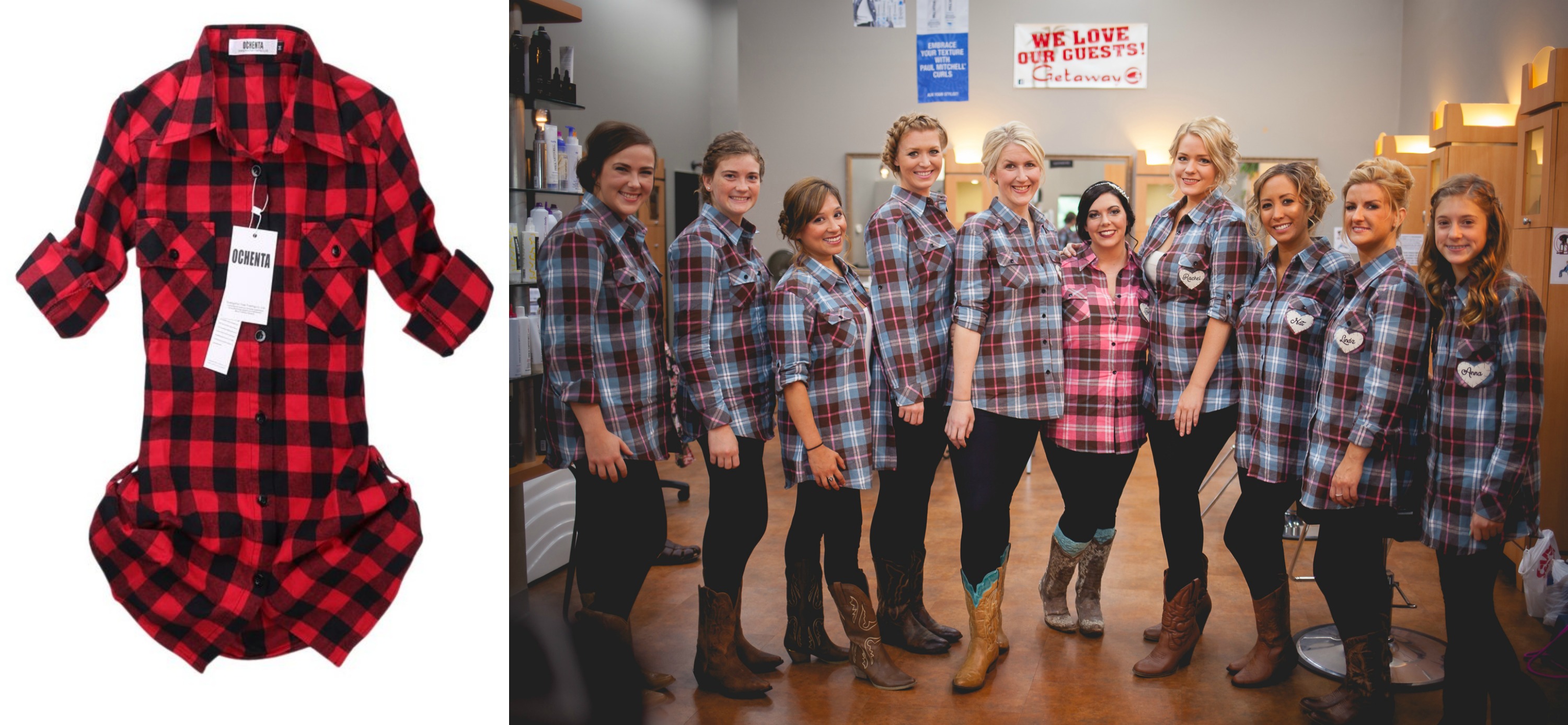 Plaid flannel tunic shirt
After that shirt turned out amazing I decided to look at more tunic type shirts. I feel like I have trouble finding nice basic tunics in stores and saw a ton on Amazon so I started reading reviews and tried the maroon one first. $13!! I read a bunch of reviews and decided to go with a large (I am in between mediums and larges right now) and am glad I did. I love the fit and fabric. I don't like shirts that are too heavy, I like to layer. I wear a cami underneath and as it gets colder could easily add a cute cardigan on top of this. It has a high-low hem and covers my bum perfectly for wearing with leggings and comes down long enough in the front too! After that success I got two more from the same company, the grey one has a little more interest with the hemline, and it's a little longer than the first one I got. Only $14.20!!! I also got another basic one in black, this has more of a sharkbite hem, but not super obvious. Only $12.45!!!
Maroon tunic ||| Grey tunic ||| Black tunic
These are all by the brand Frumos and they have a ton of different styles and each style has a bunch of different colors and even prints.
THIS is the next one I want to try - drape front high-low tunic!
Ok, then I had all these great tunics and wanted more fun leggings! So, off to read more reviews… I settled on a pair from VIV Collection that had tons of good reviews and they offer a TON of prints! I started with this "baby leopard" print. Super cute with black boots and a black tunic. These leggings are buttery soft, and stay up all day, no tugging or hiking them up. I wore them to work out this morning, then changed my top and went to help a friend unpack, wore them the rest of the day while editing photos, wrangling kids, and making dinner, and I will likely wear them to bed. These leggings are only $11.99!!!!! Half the price of some other buttery soft leggings I like!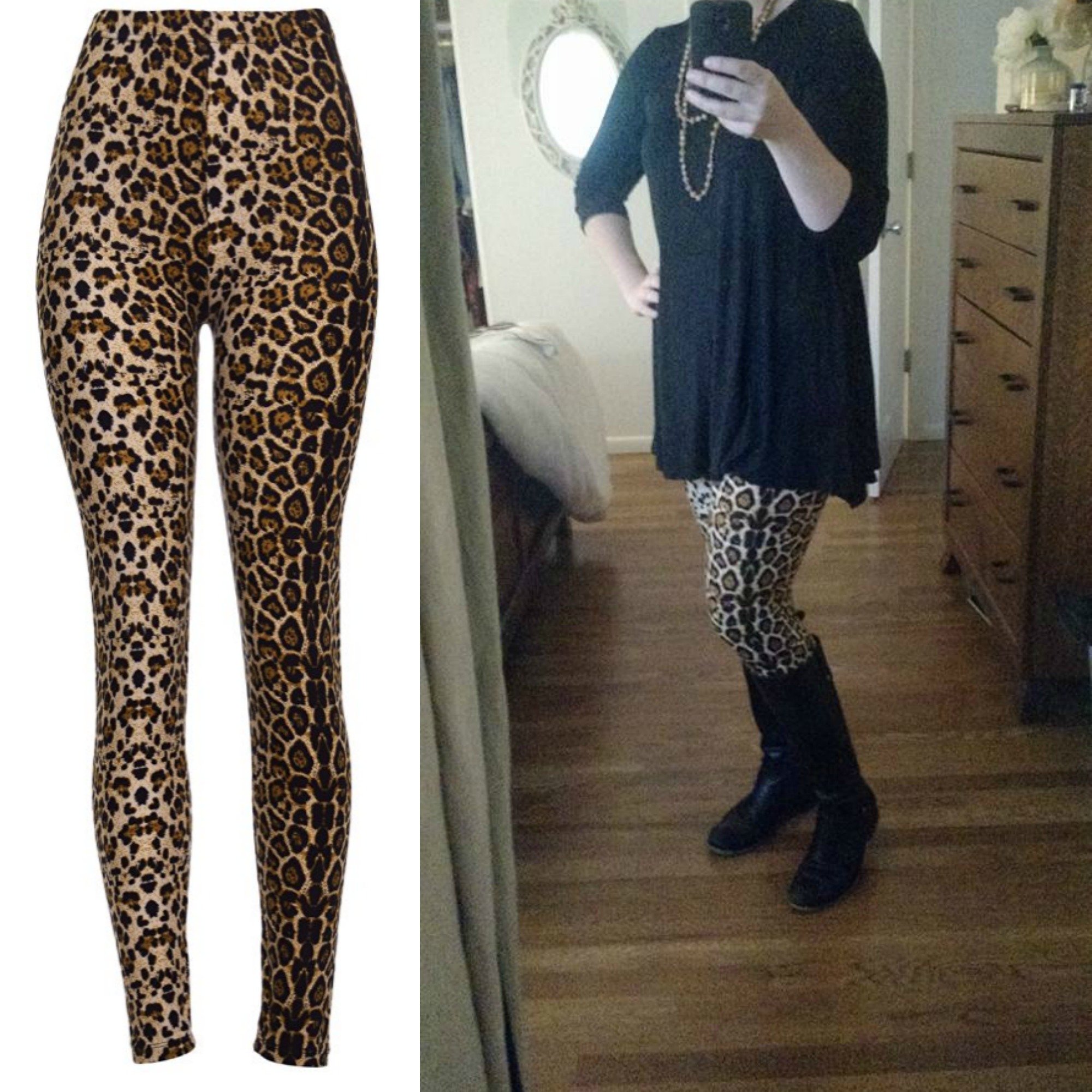 "baby leopard" leggings
Here are some other prints I am eyeing!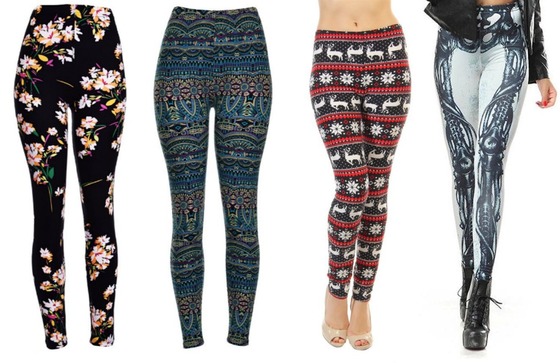 There are like 150 print options, but they are broken up into different listings, the regular size fits like a LLR one size legging. VIV leggings 1 ||| VIV leggings 2 ||| VIV leggings 3 ||| Holiday leggings ||| Random/cool maybe Halloween-esque leggings
They also have plus size leggings which according to some reviews fit like a LLR tall and curvy leggings. Plus size leggings 1 ||| Plus size leggings 2
If I try more things and like them I will add them to this post!
P.S. these are Amazon Affiliate links, but all to items I have purchased and truly like or the last few leggings are in my shopping cart waiting to be purchased!
posted September 29, 2016