Baby Herschberger: Week 38
Well, this is my last pregnancy post, because we went ahead and had Simon at the end of week 38!
I'll write out the story of his birth next, but wanted to record this last week of pregnancy. :)
Kyle left on Sunday morning for one last whirlwind business trip: South Bend, IN –> Dallas, TX –> San Antonio, TX –> Buffalo, NY –> South Bend, IN. While he was gone I kept plugging away at my to-do lists, shopping lists, and Christmas prep. I pretty much had all the baby stuff purchased, so this week I worked on the stuff I wanted for my post-partum care. I had looked up tons of blog posts and decided on a list of things that sounded nice, well, not really all that nice, but helpful, haha. :) Things like a sitz bath, numbing spray, stool softener, etc…
On Monday I went into Winona Lake for a photoshoot and then shopped my way home stopping at Wal-Mart in Warsaw and Target in Goshen. Tuesday I went to the chiropractor and she adjusted my back and worked on a spot in my left upper thigh that had been tingling, that in combination with the things she found in my lower back were issues she said left untreated could hinder the baby dropping the way we would want, so I was glad I had gone in! I also got my hair trimmed and my mother-in-law was there at the same time getting her hair done so we got to chat for awhile. And Tuesday was Kyle and my three-year anniversary!! It was a bummer not being together to celebrate but we made plans to go out Friday night since he was getting back Thursday afternoon. Kyle sent me a gorgeous flower arrangement with the sweetest note, definitely made me cry tears of joy, so thankful for the man I married and that God brought us together! Tuesday evening and Wednesday I worked around the house and I laid out the alphabet wall, figured out I was still missing the letter U so ran into Shipshewana to get that, and then I put the finishing touches on the letters. I had painted a lot of them solid colors and decided to jazz some of them up with stripes, polka dots, geometric shapes, silver and gold accents, etc… I also laid out the gallery wall in the nursery and did the trick where you cut out newspaper the shape of the pictures you're hanging and lay out the arrangement by taping them up instead of getting crazy with a hammer and nails. :)
I had a midwife appointment on Thursday morning. Everything looked good and baby Si had shifted a little lower (and I was measuring at 39.5 weeks!) but the midwife did determine I had a slight yeast infection, not surprising considering I was pregnant and coming off a cold, but I'd never had one before so she wrote down what I needed to get at the pharmacy and I had to ask for help when I got there! Kyle flew back from NY that morning and beat me home. He was exhausted after a week of travel and a bunch of early morning flights so he took a long nap. That evening we rode with mom and dad Herschberger to niece Kaylin's Christmas program, it was very cute!
Friday we had a fun evening out! We got dressed up (which took me forever and totally wore me out, I had to take a break in between getting dressed and doing my hair and makeup, haha) and went to an Italian restaurant that mom and dad Herschberger recommended, Per Bacco. It was soooo good! We started with the goat cheese crostini, and then for dinner Kyle got the sacconttini (pasta sacks with spicy Italian sausage, served with diavolo sauce) and I got one of the specials, butternut squash ravioli with a walnut cream sauce. Everything was awesome, we will definitely be going back! After that we headed up to Jones, MI for the annual Smagala Cousin's Night! Every year the night before Smagala Christmas the cousins go out for some fun. It was fun to see everyone and cousin Erin said that Simon would hear the fun and decide to come out and join us! We got home pretty late from that, headed to bed around midnight, and had no idea that an hour later my water would break!!! That begins the subject of my next post, Si's birth, so I'll stop there and finish with the usual weekly pregnancy questions!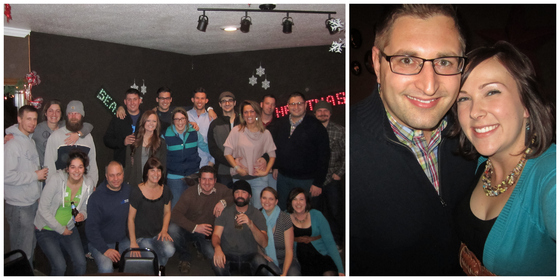 «Pregnancy Update»
Weight gain: Holding steady at or below 30lbs gained.
What I've been eating: Eating less, but nothing crazy.
Baby/pregnancy purchases: This week was much more about buying stuff for me. :)
Babies growth and development status: According to phone app baby Si is the size of a pumpkin, anywhere from 6.2-9.2lbs, and anywhere from 18.9 inches to 20.9 inches. Now we know that he clocked in at 18" long (shorty!) and 8lb 11oz.
posted December 29, 2013