Baby Herschberger: Week 35
Thanksgiving while pregnant, what a wonderful thing. :) My pants are stretchy and my belly already looks huge! We had such a nice week, hanging out with family and relaxing together.
I started the week plotting how to get the most bang for my buck when I went into Target to use my 10% registry completion. After my shower I went through my registry and tried to decide what I still wanted to get, what could wait until after the baby comes (things we won't need until he's a little older), and where I can get each item for the best price. From there I had a small list of things to get at Target in store, some to maybe get at Target online and some to get from Amazon.com. I also went through my coupons and checked Cartwheel (Target's savings app) to see how I could maximize my money. On Tuesday I had a game plan and went to Target after I went into my old work for lunch with the gang and a meeting. I didn't get there till around 4:30 and was there till 6:45 but I done good! I got baby stuff, some things for myself (nursing bras, comfy pants, a cute maternity sweater), and made a big dent in my household stockpile list (I made a list of things I'd like to have backups of so we're not running out of commonly used cleaning supplies, etc…). In the end I saved over $180! Here's the breakdown: coupons ($62.52), 10% registry completion discount ($57.89), Cartwheel savings ($40.45) and another smidge off (around $20) because I used my REDcard to pay for some of it. I even went back the next day because I realized they had taken every single diaper coupon which I didn't think they would, and I'd held back some of the coupons for pacifiers, lanolin, and milk storage bags thinking they wouldn't go through, so I took my receipt and the coupons in and they took a few more and gave me $2.75 cash! I love saving money!!!
On Wednesday I got to hang out with my niece Kaylin who had the day off from school and we did some shopping in the morning and crafting in the afternoon, so fun! We made a wreath for my front door, started painting the letters for the nursery alphabet wall, and each painted a Christmas ornament.
Turkey day and the whole weekend were nice and laid back. Since my parents live in Argentina, and brother/sister-in-law live in CA we just had Herschberger events to attend. I miss my family, but holidays are very un-stressful not having to pick and choose or alternate or split up and I appreciate that. On Thanksgiving we had an un-traditional but extremely delicious meal of smoked ribs, mac & cheese, braised brussel sprouts with maple/bacon and some other yummy sides. After dinner we sat around looking and laughing at old family albums. Our niece Dani was being extra cute all evening talking about Simon and touching/hugging my belly. :)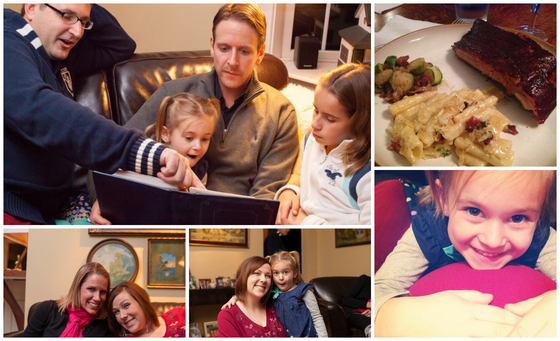 The day after Thanksgiving we did not do any shopping (well… except for the 2 pairs of lounge pants I bought online from Gap…). Instead we hung out around the house, I had 2 photoshoots, and Kyle went to Warsaw to drop our Envoy at the shop and pick up our rental car for our trip to Louisville.
Saturday was another hang around the house day, we slept in, started packing and cleaning, and in the evening went to the Herschberger extended family gathering at grandma Herschbergers.
I woke up feeling pretty crappy on Sunday, exhausted and a bad sore throat, so I did everything I could to feel better (Tylenol, cough syrup, salt water gargle, hot water with honey and lemon), finished packing, Kyle loaded the car and we hit the road for Louisville - 3 minutes ahead of schedule! We are down here for the week for Kyle to work the RVIA convention. I'm just along for the ride and the food!!!
«Pregnancy Update»
Weight gain: I think I'm still below the 30lb weight gain mark (thank goodness… let's hope it doesn't get above that!).
What I've been eating: I. Am. So. Thirsty. Oh my goodness… I even Googled "third trimester extreme thirst" on Saturday morning because I was getting worried that something was wrong, haha! I have to take a drink every time I get up to pee in the night (4-5 times), I am crazy thirsty in the morning, and thirstier than normal all day long.
Baby/pregnancy purchases: I talked about this above, but I used my Target 10% registry completion discount and got some baby/mama/household stuff. Nothing big as far as baby stuff - diapers, wipes, nursing stuff, crib sheets, a pack of onesies… Some cool storage boxes from Rubbermaid's Bento line for the nursery. Some nursing bras and tanks.
Babies growth and development status: Baby Si is the size of a coconut, could be almost 6 lbs, and by now the following systems are all a go: hearing is fully developed, circulatory and musculoskeletal are complete and lungs are mature. I am pretty sure he dropped on Friday or Saturday because I have had serious pelvic pressure and feel like I need to pee constantly, but also have not had the shortness of breath I had been experiencing.
posted December 2, 2013