Baby Herschberger: Week 34
6 more weeks (give or take)!!! Time is absolutely flying by and it's exciting to get more done each week in preparation for the baby and to get closer to when he is going to make his grand debut!
Well, it's Wednesday night and I'm finally blogging (although I probably won't finish this tonight). I had such a wonderful week last week!! Monday I was busy cleaning the house, putting away all the stuff I got at the shower, sorting through clothes, doing laundry, folding tiny baby clothes, etc… Tuesday morning was a mad dash to finish all of that and turn the nursery into a makeshift guest room for the week since my friend Amber was coming to visit with her two kiddos!!
Amber and the kidlets arrived around 1pm (drove out from PA) on Tuesday and we had such a wonderful time together. We hung out around the house, talked lots about pregnancy, babies, birth, child-rearing, etc… we went to the Menno-Hof museum in Shipshewana, we went for an after dark stroll around the Essenhaus property, we went to Kyle's work for a tour of an RV factory, and we did some other little outings/errands. It was so wonderful to see her and I love her kiddos so it was a joy to spend time with them!!
They stayed through Friday morning and when they left I headed out for a midwife appointment. My big questions this time were:
Can I go to Louisville with Kyle from December 1-5? Driving, not flying. The answer was yes, but to stay hydrated, walk every 2 hours, and watch the high-sodium food. Oh yeah, and that I should be prepared to potentially have a baby while I'm there. :)

In our birth classes they talked about a homeopathic blend and an herbal blend you can take in the last several weeks of pregnancy, so I asked her, what should I take, I'll take it all, just tell me what to do, and she recommended that I not do either unless anything changes. At this point I'm doing good, baby is doing good, and there's no reason to mess with that. She did say I could start drinking a cup of pregnancy tea every day when I get back from Louisville.
That night was a fun, family outing to the Lerner in Elkhart where they were showing Warren Miller's 64th film. Kyle's a big fan of his movies and he'll play them on Netflix sometimes when we're working around the house. It ended up being us, mom and dad, Lee & Stacy (Kyle's brother/sister-in-law) and niece Kaylin. Lots of fun!!!

Saturday was another git 'er done day around the house! We didn't leave the house all day, or even change out of our pajamas, but holy cow we got a lot done!!! I worked in the nursery some more, organizing, deciding where stuff should go. We moved my bathroom stuff upstairs and we both organized/cleaned our bathrooms. Kyle went through gobs of stuff and got rid of a bunch, and made his basement closet area a little nicer with a rug and a chair. I moved some more of my clothes/shoes upstairs. I cleaned/organized my craft room. Kyle put together the pack 'n play, I put together the rock 'n play. We got a TON done!!!
We finished the week (or started the week?!) by going to church at River Oaks with mom and dad, Stacy and Kaylin. I really enjoy going to church together as a family, and I really like River Oaks, I'm looking forward to settling in there. Then Kyle and I ran some errands before getting ourselves back to the house so I could meet up with one of my former co-workers Jalisa and her fiancé Mike for their engagement photos! I seriously had a blast tromping with them in the woods, looking for great places to take pictures, working with the light, etc… Here's a little collage with some of the pics from their session.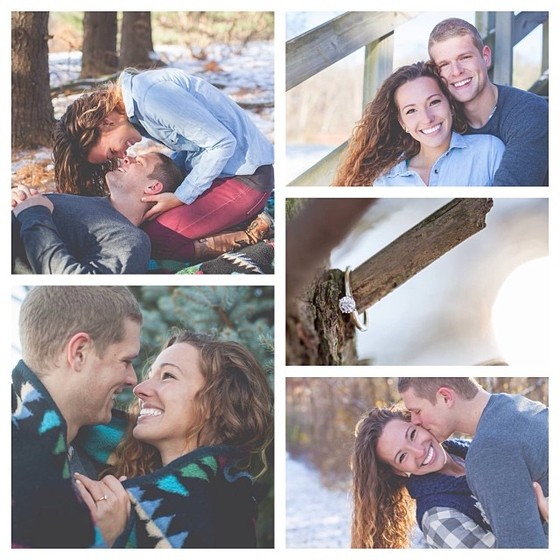 «Pregnancy Update»
Weight gain: Once again I haven't checked, maybe I'll weigh myself tomorrow before I start eating for Thanksgiving. ;)
What I've been eating: I have been craving soda all the time… I know that's not the greatest thing for me, but I have been drinking a diet caffeine free Coke and a peach Fresca every day.
Baby/pregnancy purchases: Posting this late in the week when I'm trying to blog about last week makes it so hard for me to remember!!! I guess the main purchases I can remember would be 2 baby carriers! Amber showed me her two favorites at Target and I was sold. One is the Moby wrap, which is one of those that's a long strip of fabric that you wrap/tie around yourself and then tuck baby into - I like it for a few reasons, the fact that the baby is snug and cozy against you, and the fact that I could wear the wrap when I get in the car, and when I arrive at my destination get Si out of his car seat and tuck him right into the wrap and skip lugging around his carseat. I got this one on eBay for $26.95 total, a small savings from the usual price of $32-40. The other carrier is the ergobaby carrier which is a lot like the carriers by Baby Bjorn, Infantino, and others, but ergobaby's is higher quality with really nice padded straps that makes it a lot more comfortable to wear. With this one you can wear baby on the front, back, or side, and I think Kyle would be comfortable wearing this one if we go out for a day, walking long distances, etc… I ended up also getting this one on eBay, plus the infant insert from Babies"R"Us using a gift card, for a grand total of $76.79, and that would have cost $140 from Target. All that said, I am very excited to have gotten 2 carrier options that I am comfortable with, and for somewhat of a bargain!
Babies growth and development status: Baby Si is the size of a butternut squash, could be up to around 5.5 lbs, and could be making his descent lower into my pelvis any day which will make it easier to breathe, but put more pressure on my bladder.
posted November 27, 2013