Baby Herschberger: Week 33
Well, I thought I would have more time to blog now that I'm not working - WRONG! Week two of being home has been super busy, but thankfully some of it was being busy with getting things done around the house.
The week started with a trip to the South Bend airport to pick Kyle up from his trip to Florida. It was Veteran's Day and there were some sales at the mall so we did a little shopping, but really didn't get much, a new pair of jeans for Kyle, and I stocked up on the Clinique skincare and makeup that I'll need for the next few months, shouldn't have to visit the Clinique counter until baby Simon is a month or two old.
On Tuesday I did a little photoshoot with a friends new baby girl! She was almost 4 weeks old so I was nervous she wouldn't do well with the sleepy pics but she did great at first! We got through two setups with her sleeping and then she woke up and there was no going back to sleep. :)
Wednesday was a busy day in Winona Lake! I dropped a bunch of clothes of at the Revolving Closet on my way (best consignment store ever!) and then went to my old office to have lunch with the crew and then meet with a couple people (I'm on retainer for questions and for on-campus meetings every other week for a couple hours). I had to head out mid-afternoon to meet up with friends from our old church - Mandy and her three kiddos. She had some baby stuff for me, and I wanted to do a little photoshoot with her adorable kids. It was cold and super windy which made it way worse, so my plan of pictures in the woods didn't go well, the oldest boy was happy as a clam tromping in the woods but middle girl and baby boy were pretty miserable, so plan B! We went to Martin's and got a round of hot cocoas, the kids loved that, Mandy and I got to chat some, and we got some cute pics of the kiddos. Mandy gave me the cutest wooden truck rocker toy, and 8 BOXES of baby boy clothes!!!! After that I headed back to Middlebury for dinner at mom and dad's with the brother-in-law, sister-in-law, nieces and grandma, such a fun time. Dani and Kaylin took over my camera for awhile and I loved seeing their "photojournalistic" take on the evening. :)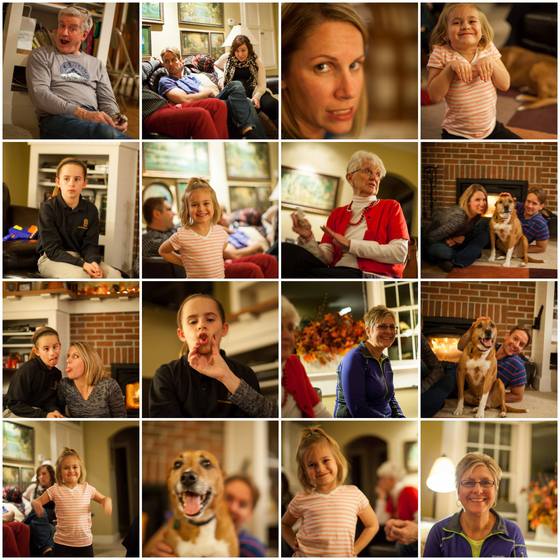 Thursday was a busy day running around to Sam's Club to get my sample contacts, to Goodwill to drop stuff off, ran back to town to meet with our family doctor who I was scheduled to meet with next week but they called and could squeeze me in that day, and later with Kyle to a friends house to visit and pick up a baby shower gift and to our last birthing class! This class was about breast-feeding and after-care of mom and baby. It was a great class, they had a list of local resources for breast-feeding mamas that made me feel a lot better.
I can't remember what I did during the day Friday… I think I worked in the basement… and edited pictures? In the evening we went to our old church and I did free Christmas portraits for anyone in the church and community. We hadn't seen a lot of our church friends since before I started showing, so a lot of people seemed surprised by my "big" bump.
Saturday was a busy, busy work around the house day!!! We slept in and then we got after it! My goal was to finish getting a bunch of stuff organized and put away in the basement and to get Kyle's clothes moved downstairs to free up the nursery closets for baby stuff, and we got it all done! We got our summer clothes and other clothes we're not wearing right now (AKA skinny clothes) put away neatly, my clothes cleaned out of the downstairs closet and dresser, Kyle's clothes moved downstairs, the comfy clothes I hope to wear post-pregnancy put in the drawers under the daybed… basically we got a lot done, it felt really good. We had dinner at our neighbors house, they fed us really good and it was so fun to hang out with them and see their baby.
And Sunday, oh Sunday, what a day!!! We went to River Oaks for church in the AM, that's where we're planning to attend regularly and eventually become members, now that brother-in-law has a M-F job we're all going to go there! Mom and dad Herschberger, us, and brother-in-law/sister-in-law/nieces. The afternoon was spent at my baby shower!! It was so lovely, my mom-in-law and aunts put it together, my sister-in-law helped with the games, and my cousin hosted it at her house. It was so fun to see everyone and I am blown away by all the amazing things we got! Tons of things I registered for like a Bumbo seat, stroller, cloth diapers, Boppy, some awesome things that people made or picked out like a blanket and adorable Curious George stuffed animal from Grandma H, homemade burp cloths, a Thirty-One bag with "SIMON" embroidered on it, freaking adorable clothes including a giant tub of hand-me-downs from cousin Amy that are so so cute!! I have a very short list of stuff that I still want to get before baby comes (audio baby monitor, changing pad/cover, diaper sprayer, on-the-go changing station, some sort of baby carrier and some littler things), and then a few things that we can wait and get later on (high chair, activity mat, some items for when he starts eating solids, etc…). This will be more for next weeks blog, but I spent a lot of today washing and sorting baby clothes and putting everything away in the nursery! So fun!!!!
«Pregnancy Update»
Weight gain: I dunno! Haven't checked, although when I went to the doctor I think I weighed less than I did last time at the midwife, could have been the difference in clothes/shoes.
What I've been eating: I am just absolutely starving first thing in the morning, but then rest of the day rarely feel hungry and sometimes go until 3pm without eating lunch.
Baby/pregnancy purchases: I don't think I bought anything last week, but man did we get a ton of awesome stuff from our friends and family!
Babies growth and development status: Baby Si is the size of a durian (say what?!) and weighs around 5 lbs. He is more alert and curious, is starting to coordinate breathing with sucking and swallowing and his bones are continuing to harden.
«Pregnancy Ramblings»
I wore my ring on my finger all week and then on Sunday could barely get it off on our way home from church, so back on a necklace it goes.

Going through all these clothes has made me so excited!!! And it's made me realize how tiny he is going to be, the newborn and 0-3 month old clothes look so dang small!!!

Speaking of baby clothes sizing, it's so confusing. Things that are 3 months and 9 months often look the same to me. Oh well, I've sorted everything out and I have the newborn and 0-3 month clothes in the dresser, a box of 3-9 month rompers and short-sleeve onesies for this summer, and a box of 3-9 month pants, jackets, long-sleeve onesies, shorts, jeans, etc… for whenever they fit. I put all the 12-month and larger clothes along with all the spoons, bowls, etc… in a storage tub that will go in the basement for now.

I was telling the girls at work that I am both surprised when people can't tell I'm pregnant, and can tell I'm pregnant, haha. The people at our old church were surprised to see how big I am, while my friends and family at the shower were surprised at how small I am!
posted November 18, 2013