Baby Herschberger: Week 29
Well, I survived what is always one of the busiest weeks of the year at work - our annual photoshoot. It's always fun but exhausting. Long hours, running around like crazy, but with a bunch of awesome, creative people.
I was in my typical PM (Project Manager) role during the photoshoot, but I also brought my camera along and shot when I could! First day was fun, second and third day my camera decided to act up. I tried a bunch of fixes, tried to diagnose it, and in the end decided it needs to go in for repair, so I'll be shipping it out tomorrow. Major bummer considering I've been pursuing and booking more photoshoots since my full-time job is wrapping up, but it should take 2 weeks or less to fix, and I have 2 more weeks of work left and can borrow a camera from work if a shoot comes up.
I was in Winona Lake for work every day this week, drove back and forth Monday and Tuesday, and then stayed in town Wednesday-Friday. The next 2 weeks I'll go in 2 days each week and work from home the other days. I'm just finishing up a few projects on my own and passing the rest onto my replacement! I wish there was a cord I could connect from my brain to his, not just to download everything to him, but then could I empty the recycle bin on my brain when we're done? I'd love to clear out some room in there, haha. :)
I asked Mary Anne Morgan (AMAZING photographer, I have learned so much watching her) to snap a photo of me for my blog, so here's a week 29 bump picture!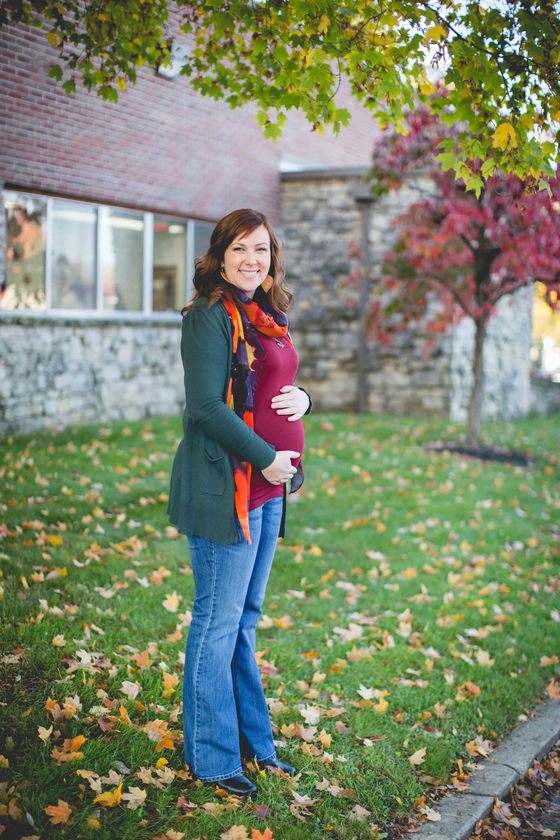 On Saturday Kyle and I slept in, got up and put on our "grubbies" and went out for breakfast and to Sam's Club. Kyle's parents scored us a free membership - something we'd been wanting to do!! We had fun walking the store, trying a few samples, and picked up a few things. I also jotted down prices on a bunch of things that we normally buy so I can start figuring out what things will be more economical to buy in bulk. When we got home we both took a nap, it felt so good to rest. In the afternoon/evening I went to Warsaw for a photoshoot and Kyle stayed home and started putting together the daybed in the nursery! That daybed is not only one of the heaviest (maybe even THE heaviest bed) that IKEA has, but it has got to be the most difficult one to put together. Kyle persevered through a million parts and pieces and almost 40 steps and got it almost all done! Last step is to put together the three drawers and push it into the corner!
«Pregnancy Update»
Weight gain: I haven't weighed myself lately. Baby Simon is in his prime weight gaining time, so we'll see what that does to me!
What I've been eating: During photoshoot I generally eat crap. Lots of carbs. On Thursday when Kyle came to have dinner with us we ended up hanging out at Martin's with everyone, and then going to Ruby Tuesday's where I got some much needed protein and veggies.
Baby/pregnancy purchases: At Sam's Club we picked up a cuuuute stuffed animal that is grey and turquoise stripes, I think it's a giraffe. :)
Babies growth and development status: Baby Si is the size of an acorn squash! He's moving around a lot and plumping up!
«Pregnancy Ramblings»
Last night we were laying in bed and Simon started kicking and Kyle got to feel it! I wasn't really sure if he'd be able to, and we've barely seen each other lately so we hadn't tried, but he totally could!!

I am peeing more and more in the night and I feel like such an old lady when I get up to pee! Some nights I'm shuffling into the bathroom in pain because I'm all sore and achy.

I started a list of things I want to do/buy/make before the baby comes.

I finally stopped obsessing over my baby registry, haha. I feel good about what is on there and just need to check it once a week or so since I've registered for a lot of the same things at 2 places and if someone buys it from one store I'll delete it from the other.
posted October 20, 2013