Baby Herschberger: Week 28
This was a hard week, on Tuesday we took my parents to the airport and it was definitely the hardest goodbye for me so far. The rest of the week was spent training my replacement and trying to stay caught up at work while starting to pass the reigns.
I had dinner at the Sprankles (pastor of the church we went to before we moved to Middlebury) on Thursday night. It's always so good to hang out with them. Tim was saying how he is thankful that Liz lives in the moment, not overly focused on the past or the future, and that she is a lot less stressed/anxious because of it. I shared that I have been so frustrated the past few months because I desperately want to live in the moment. To enjoy now. To slow down and delight in being pregnant. To savor these last few months of Kyle and I just being the two of us. I know that I am the one getting in the way of that and I can't really blame my circumstances, but I do anyway! I blame the stress of work, the amount of time it takes away from me not just during work hours, but the way it sometimes consumes my thoughts and distracts me outside of work hours. So for months it's been all about "when I'm done working". Like that will solve everything. Well, I'm down to one week left in the office, after that I will work from home for another week or two, and then I will cut back to just being available for questions and going to campus every other week for a couple hours, but I won't have any responsibilities beyond that. I cannot wait. But I also know it's going to be incredibly bittersweet when I am no longer needed and have the freedom to do all the things I have been wanting to do. For one, I have loved this job and the people I work with. I like being a part of a team and accomplishing projects together. Also, the whole "stay-at-home mom/wife" thing is intimidating! I want to contribute to the household in many ways but none of them come very naturally to me. I am not good at keeping a home consistently clean - I usually just let it get dirty, then clean it all in a couple hours. I am not good at grocery shopping or cooking! Even though I love bargain hunting, I am not very good at saving money and a big goal of mine is to make our money go further. It's all new, and slightly overwhelming!!!
I do hope to grow my photography business now that I'll have the time to do so. I had the privilege of taking family photos of our neighbors yesterday, and then some more "newborn" pictures of their daughter. She's a month old now, so the snuggly, sleepy poses were a little more difficult then when she was under 2 weeks old, but we still managed to get some fabulous photos!
Kyle snapped this picture of me and my parents before we headed out to the airport on Tuesday.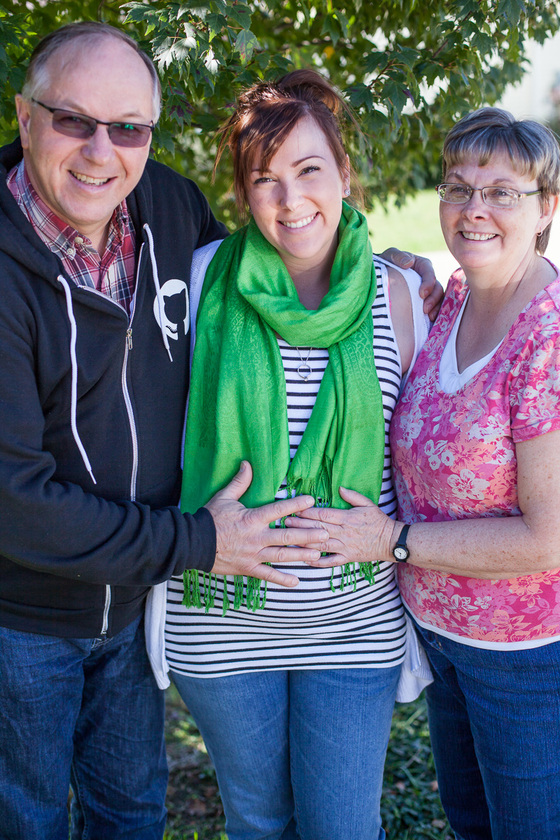 It was such a difficult goodbye. After unloading the bags curbside I hugged them each twice and then we had to drive away. I'm crying now just thinking about it. The good news is they'll be back in 6 months, I am so thankful for that.
I had a really good ultrasound on Friday! They were just checking my amniotic fluid level, and it's still good! I also asked about the glucose test I did last week (to check for gestational diabetes) and I passed with flying colors! I was so happy to get those two bits of good news. When I was almost all the way home from my ultrasound appointment, I ran out of gas! Like… I was about to turn onto our street and realized what was happening so I just pulled off to the side of the road so I wouldn't block our streets weird little entrance. Then I walked to the house, grabbed the gas can out of the shed, put some gas in the car and then went to the gas station to fill the vehicle and the gas can. The whole ordeal took less than 10 minutes but I was so annoyed! Did I mention a few weeks that I ran out of has in Michigan and the Howards (the couple I stay with when I go to Michigan) had to come rescue me a block from their house? Yeah, that happened. And I'm pretty sure I had never run out of gas (or diesel) in my life before that. Now twice in a few weeks. Whatever, blaming it on the new vehicle and pregnancy brain.
Well, I have a big week to prepare for so I'm going to wrap up with the pregnancy update/ramblings and call it good.
«Pregnancy Update»
Weight gain: Around 16 lbs total.
What I've been eating: Well, Kyle was gone this weekend and I ate a box of Cinnamon Toast Crunch in 3 days!
Baby/pregnancy purchases: After thinking about it a little, I decided the nursery was just going to be way to jam-packed with a double bed, glider and ottoman, crib, dresser, and bookshelf. So I started looking at daybeds and found one I really like at IKEA, and on Tuesday we got it! I also got a couple other decorative type items at IKEA - a sheepskin rug, hooks and skirt hangers that I'm going to use to hang a quilt on the wall… I think that's it. We got a lot of other stuff, but I think that was it for the nursery. I also ordered some more maternity clothes from Old Navy. I started unpacking my winter clothes and some stuff will work, but a lot of it won't, so I got a pair of skinny jeans to wear with boots, some leggings, and several tunics. Not sure if I like all of it, might return some and try ordering from H&M.
Babies growth and development status: Baby Si is the size of an eggplant and growing eyelashes!
«Pregnancy Ramblings»
I went ahead and started wearing my wedding/engagement rings on a necklace. I can still get them on and off, but I have to pry them off and would rather not have the fun surprise of having to get them cut off one of these days :)

At the ultrasound on Friday it was confirmed that baby Si is head down, which explains the kicks I've been feeling much further up!

My belly button is starting to look and feel weird. A little stretched, haha.
posted October 13, 2013