Baby Herschberger: Week 25
What a week! Busy at work, busy at home, and always on the go! The highlight was definitely my weekend in Michigan where I had my first baby shower, spent time with my parents, visited my home church and went to the Hillsdale County Fair.
Kyle and I started the week with a night out on his company. It was the Elkhart RV Open House Week so all the manufacturers in the area were holding open houses and special events for dealers who came in from all over the country to see new products. KZ RV/Venture RV took their dealers to the Four Winds Casino in New Buffalo for an amazing buffet dinner and some fun! I ate WAY too much at the buffet, there were so many options! They had basically every nationality of food and everything looked awesome. After that we roamed the casino floor, chatted with dealers and co-workers here and there, and played the penny slots with our $15 casino cards that everyone got. I quickly turned $15 into $5, while Kyle turned his into $50. By the end of the night I think we left with around $30 in cash which Kyle used to buy a pair of cheap work boots so he wouldn't get wood chips in his shoes all week at the open house. :)
Tuesday morning I scored a great deal on the carseat I wanted (Graco Snugride Classic Connect 30) and an extra base! I was able to use 2 coupon codes on Diapers.com and got them for $100 (would have been $150) with free shipping. I also ordered a few things from Amazon and Etsy so by the end of the week I had a mini-Christmas! I also had some down-time in the afternoon when I took a friend/baby to a doctor appointment and was able to do some reading on grocery shopping/budgeting and create a spreadsheet that I'm going to use to track prices on the things we buy frequently so I can make sure I'm getting a good deal, take advantage of coupons when they're actually worthwhile, etc… I currently have absolutely no concept of what a good price on most things is because my sweet husband does most of the grocery shopping and I've just never been a very aware person in this regard. Well, as I take this step into being a stay-at-home wife/mom I want to use some of my time to save us money however I can!
Wednesday and Thursday I worked from the office so I stayed the night in Winona Lake so I could work late Wednesday and be there decently early on Thursday. I needed to be there at a decent time on Thursday because that's the day we did second interviews for my replacement! I have 6 weeks of work left, and will probably spend the last 4 weeks training my replacement.
Friday I headed up the Michigan in the late afternoon for a baby shower that my mom and Pam Parker threw for us! It was SOOO wonderful!!! It was a book-themed shower and the guests were asked to bring a book in lieu of a card. Simon received 27 awesome books, plus tons of other goodies! I'll have to do a separate post and show pictures of all the cute decor/food, but here's one picture from the shower, my mom and I with the GORGEOUS quilt that she made Simon. She has been working on this since she found out I was pregnant, since long before she knew we were having a boy and just had a general idea of a nursery theme (alphabet/books) and colors (turquoise/aqua, lime green and grey). I think she was nervous about me liking it, but holy moley - I LOVE IT! It's so gorgeous, I just can't wait to put the nursery together!!!!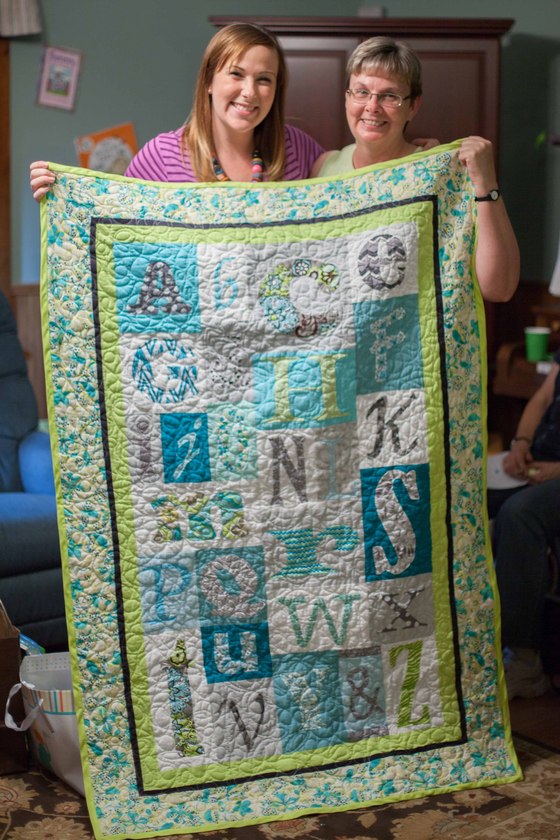 Kyle came up Saturday and we spent the afternoon hanging with mom and dad and doing a little antique shopping, and had a huge (awesome!) steak dinner with them that night. Sunday we went to church and then hit up the fair!! It was fun walking around, eating fair food, and seeing people!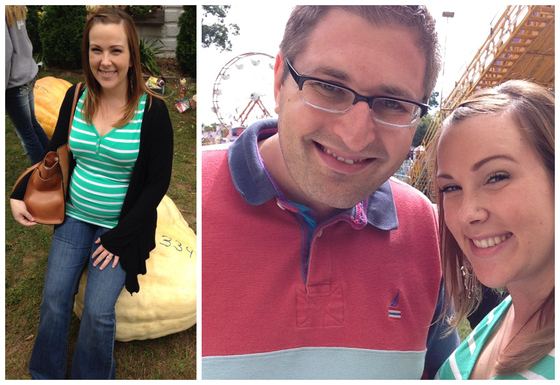 «Pregnancy Update»
Weight gain: Ha, after the fair food I ate today, who knows?!
What I've been eating: I have been eating (and really enjoying!) apples lately.
Baby/pregnancy purchases: SO many things this week!! I got the carseat and extra base, a freezer meal cookbook, a boppy pillow from Etsy (grey chevron on one side and grey minky on the other), the diaper bag insert I mentioned last week, a Foscam that we're going to use as a video monitor and that Kyle can view from his phone or iPad while he's away traveling, and a Cusinart food processor (looking forward to using that when I make freezer meals in November and December, and when I make baby food in many months!). I also received tons of stuff at my baby shower: blankets, diapers, burp cloths, pacifiers, bottle brushes, drying rack, car seat protector, grooming kit, baby wash, rock 'n play, bibs, teethers, thermometer, booties, mittens and so much more!!!
Babies growth and development status: Baby Si is between 1.5-2.5 lbs, over 13 inches long and the size of a head of cauliflower. My uterus is about the size of a soccer ball now!
posted September 22, 2013