Baby Herschberger: Week 23
This week was busy, but so much better than last week. Nothing too exciting to report on, I worked, did one Pinterest-ey project, had a quick ultrasound to check my amniotic fluid levels, a midwife appointment, went to a baby shower, assembled our IKEA treasures (including the crib!) and started Financial Peace University (second time taking the class).
So, here's a little more detail on my week. I'll post a couple craft projects together in a separate post, but basically my mom gave me a bunch of awesome old maps and I plan on doing all sorts of things with them, but first off I made a piece for our eventual living room gallery wall.
I had a quick ultrasound on Friday and my amniotic fluid levels are fine now! Praise God! I've been drinking lots of water! I will have another ultrasound at 28 weeks to check it again. My "mild asthma" combined with the fluid issue has the midwives concerned that I will risk out of being able to use the birth center, but so far that's not the case. And if that does happen the Goshen Hospital sounds great and I've only heard wonderful things about delivering there.
On Saturday I went to a baby shower for a friend I know through work and it was so fun seeing everything they got! I came home from that and added a few things to my registry. :)
Today Kyle went out to the garage and started assembling things from IKEA so I joined him after awhile and we assembled the crib together!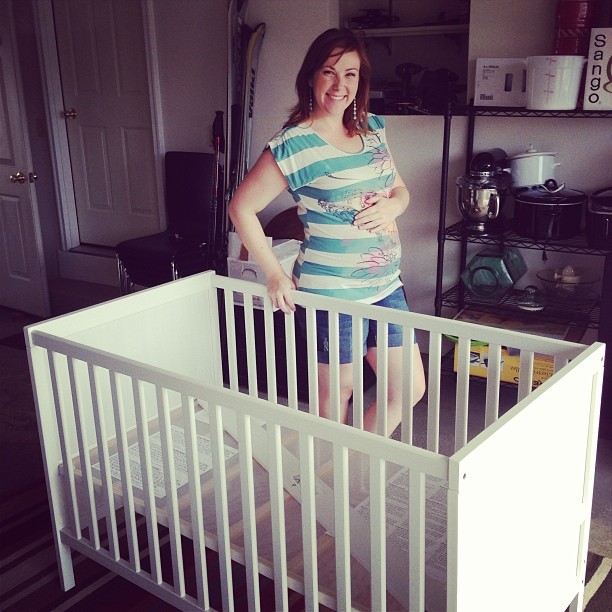 And tonight we start round 2 of Financial Peace University! We did it in the fall of 2011 and tackled the budget and the debt snowball then and were debt free within a year (28k of debt). This time we're excited to go back through everything, refocus our budgeting efforts, and really dig into the savings and retirement plan. Our 3-month emergency fund is almost fully funded, but we have some things we want to save for - the biggest being a downpayment on a house. So, for the next 9 Sunday evenings we'll be doing that!
«Pregnancy Update»
Weight gain: I have gained 10 pounds total. I have not been walking and need to make that more of a priority, I just need to get a 20-30 minute walk in every day.
What I've been eating: I've been eating a lot at meals! After my last midwife appointment I told myself (and Kyle) it's really time to buckle down and work on eating vegetables! And in a few weeks I'll need to work on getting 4 proteins a day.
Baby/pregnancy purchases: Hmmm, in the past week, I guess nothing!
Babies growth and development status: At 23 weeks baby Si is ready to chunk up, must be why I've been eating more! He's about the size of a grapefruit and is more aware now, listening to what's happening in the great big world outside. During worship at church I whispered to Kyle that I bet Si likes the loud music! I have been feeling movement every day since last Friday and that's been fun. :)
posted September 8, 2013