Baby Herschberger: Week 22
My week was sort of awful, but a lovely long weekend away made up for it. I have been getting increasingly overwhelmed at work as the countdown to my last day ticks down. I've got about 8 weeks left and I'm just not seeing the light at the end of the tunnel between feeling so behind that I'm never going to catch up/miss deadlines, and feeling internal pressure to get my office organized and a training plan laid out for when my replacement starts (which hopefully will be in 4 weeks).
And on top of feeling more behind/overwhelmed than I ever have I am pregnant and sometimes can't form a thought and have heightened emotions. Awesome.
By the end of the week I was asking my co-workers for forgiveness, my boss for help, and my husband was praying for me to let it all go and have a nice weekend away with him.
I was able to pretty much put it aside and we had a wonderful time away in Cincinnati and Indianapolis. Here are the highlights (and one bummer):
Bike ride/awesome breakfast: On Saturday morning we got up, scrubbed the sleep from our eyes and got on our bikes. Our hotel was about a mile from the bike trail, but we didn't know it was a mile straight downhill, then it was 3-4 miles on a nice flat trail, and then another downhill jaunt into the little town of Milford. Since a lot of the way back was going to be uphill, and not a very safe uphill (windy roads with no shoulder) Kyle called the hotel and they took pity on a pregnant woman and offered to come pick us up after breakfast, I was very grateful for that! We ate breakfast at Big Poppa Slims and it was AWESOME! We had a really nice time talking to the regulars we sat next to and the owner, and the food was delish! Kyle got a dish that had goetta in it, which neither of us had ever heard of! Goetta is a breakfast sausage of likely German-American descent that is popular in the greater Cincinnati area (source: Wikipedia). The owner told us how his dad's family used to buy a pigs head, cook it over the fire, shake out the contents and then add in oats and seasonings (it's peasant food, the oats stretch the meat). Anyways, it was very good and I'm glad we tried it! My sweet tooth lead me to the Baked French Toast which turned out to be this amazing concoction that tasted like monkey bread meets bread pudding. Needless to say, if you're ever out that way, check this place out!!!
IKEA: Our Saturday afternoon was spent at IKEA. The main reason we planned this jaunt over to Cincinnati was to go to the IKEA and get the crib, and a few days before the trip the crib started showing as out of stock on their website and on their app, so I resigned myself to the idea that we weren't getting it and we would just get the rest of my little list. Well, lo and behold, it has just changed item numbers and the website/app wasn't catching on so it actually was in stock, yay!!! So, we got a nice little bit of stuff for the nursery: the crib, crib mattress and crib sheets, plus a cute turquoise pail that will be our diaper pail, a hook/hanger system for above the changing pad, a picture frame, a floor lamp, some underbed storage boxes that will hold some of my clothes… Hmm, what else. I got 2 clothing racks that will go in the basement and hold my hanging clothes once I clean out my closets for Kyle's clothes. Basically I just love IKEA. For the holiday weekend they had a deal where if your bill was over $150 (which we knew ours would be with the $120 crib and everything else) they would deduct your restaurant bill from your final bill. So we had a feast! We each got a starter/salad type dish, the meatball dinner and a dessert, we racked up a $30 food bill which I think is hard to do at IKEA!
Downtown Indy: Saturday evening we spend galavanting around Indianapolis. We had planned to go to the end of the baseball game at Victory Field to watch fireworks, but it was sprinkling and they had a rain delay so we bailed on that and went downtown to the Circle Center mall. Our big find was a bookstore that was (I think) closing and had crazy good deals, so we picked up some books for baby Si and a few for us! Kyle picked out the baby books while I was in another store shopping and he got some really cute ones! When I went back to the store and saw the amazing deals I grabbed a copy of Pioneer Woman's book "Black Heels to Tractor Wheels-A Love Story" and "The Know-It-All" by A.J. Jacobs. After our little shopping spree we went in search of food and ended up at Tastings where we had a cheese plate and then Bucca di Beppo for a pepperoni pizza, I had never been there and thought it was cute, fun and yummy! When we came out of there it was POURING rain so we took shelter in a parking garage for a couple minutes and then took a taxi back to the hotel. It was a wonderful evening with my honey. :)
BUMMER: When we emerged from the hotel (right next to Lucas Oil Stadium in Indy) on Sunday morning I was sad to see we only had one bike instead of two on the back of the car. Despite being locked up, somebody was able to finagle my bike out of the chain and stole it. Sad, but not altogether too surprising.
BBQ @ Craig & Cara's: On Sunday evening we headed up to Noblesville for a BBQ at our friends house. We had such a fun time seeing them, and some other friends who had identical twin boys 8 weeks ago, and we made a bunch of new friends! There were tons of cute kids at this party so I took some pics of the major cuteness happening. There's the twin boys (top right), twin girls (bottom right) and cute chubby baby I just couldn't resist (left).
Photoshoot: Today (Monday) afternoon we headed back to Crag & Cara's on our way out of town so I could do a few maternity pictures of Cara and family pictures of the 3 (4!) of them! I'll try to do a separate post on these once I get them edited.
And that is the gist of the weekend! I guess one other thing is I got my birthday present, a new purse! I was planning to get a black purse but fell in love with a cognac purse that has black stitching. I got it at T.J. Maxx and it's London Fog.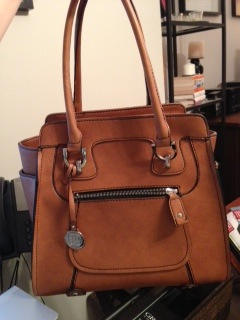 «Pregnancy Update»
Weight gain: I'm skipping it this week. I didn't weigh myself while we were gone, I'm already a day late on this post, and I'm fasting from social media tomorrow so I'm not going to get on and update tomorrow.
What I've been eating: Nothing weird. Just eating plenty.
Baby/pregnancy purchases: SO many things! All the fun IKEA stuff for the nursery, a bunch of books for baby Si, and I got quite a few maternity clothes over the weekend, 2 pairs of jeans, a cute top, a pair of shorts, and 2 tank tops!
Babies growth and development status: At 22 weeks baby Si should weigh about a pound, but he already weighed that over a week ago, so he's probably more than that now! He's about the size of a papaya and is looking pretty cute these days! Facial features are pretty much formed, it's time to chunk up now!
Other pregnancy tidbits:
I have officially started feeling movement! Starting Friday I've felt little flutters throughout the day, very exciting for me as I was getting a little anxious about not having felt anything yet!
My bad week was definitely amplified by a phone call from one of the midwifes on Tuesday evening letting me know that the ultrasound showed that my amniotic fluid level was low and that I needed to increase my water intake and do another ultrasound before my appointment on the 6th. This news was also amplified by the fact that I had forgotten to take the homeopathic remedy for anxiety I'd been given by the midwife at my last appointment. That little remedy is apparently helping! Oh yeah, then on Wednesday morning I realized I'd been taking half of my prenatal vitamin for almost a month. The last prenatals I had been taking were just one big pill, and when I ran out a month ago Kyle grabbed me a few more boxes at CVS that were a good deal. I didn't bother reading the box or the bottle and started taking those. I have no idea why on Wednesday morning I decided to read the bottle, but when I did I saw that it was step 2 and that there was a multivitamin that went with it! I ran downstairs, grabbed the box, and yup… The other bottle isn't just the same thing I've been taking, it's a separate pill I was supposed to be taking. Ugh. Then I felt anxious about that. Anywho, I'm taking the homeopathic remedy again, feeling a lot calmer, and I'm taking step 1 AND 2 of my prenatal vitamin!
That's all I've got for now. I've had such a lovely weekend and now it's time to unwind, unpack, and get a good nights sleep before going to work tomorrow!
posted September 2, 2013