Nursery Inspiration: Layout
I am trying to figure out how to arrange the nursery (without actually moving anything around) and trying to figure out if I will use a dresser we already own as a changing table or buy a smaller changing table that matches the crib we're getting from IKEA.
I want to have our full-size bed in the nursery, although I'm not sure if baby Si will end up downstair with me more, or I'll end up upstairs with him more, I want comfortable options either way. Our full-size bed is from IKEA and has a rather bold headboard/footboard design.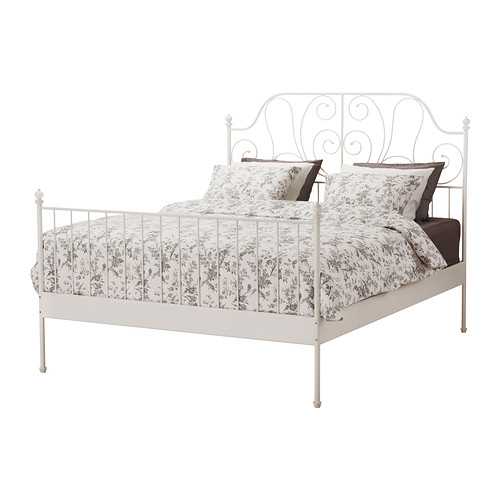 And the glider/ottoman we ordered will absolutely be a gorgeous focal point. The rich, warm quarter-sawn oak with the aqua fabric is gunna pop in a room of mostly greys/creams. Here's a picture of the showroom sample (and me!).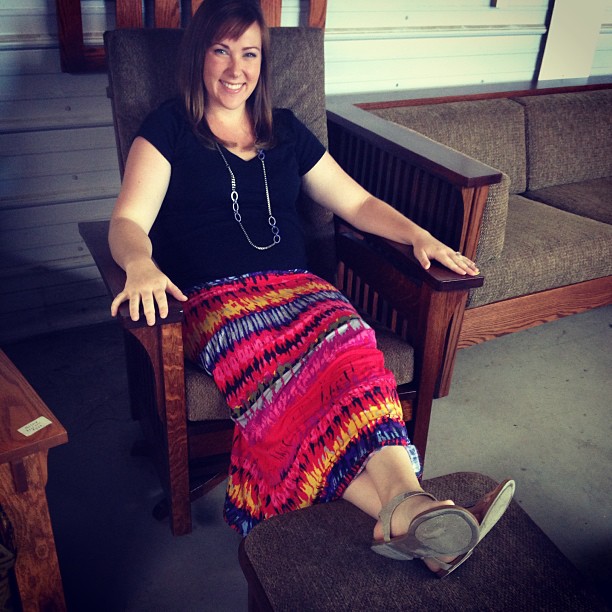 Next to the chair I'd like to have a floor lamp, possibly one that extends over and has a very directional light, and an end table that I already own and want to repaint.
I had been planning on getting a Graco crib but after thinking about it decided I wanted a more simple/minimalist crib and decided IKEA would be a good option. Their Sundvik crib is well reviewed by Consumer Report so I feel good about it.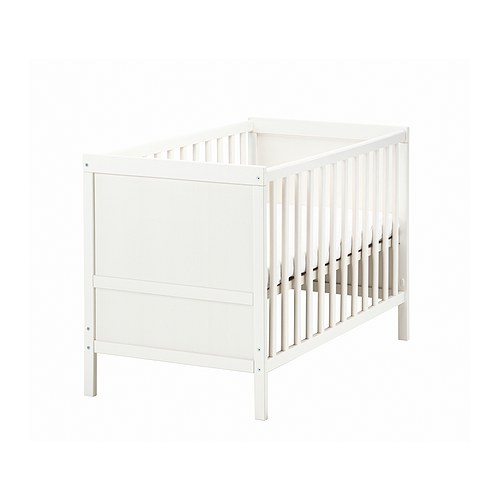 Now, my dilemma is how will everything fit and can I use a dresser I already own and like for the changing table/storage (it's wood and it should match the glider fairly well as far as wood color), or should I get a slightly smaller matching changing table from the Sundvik line at IKEA?
I also have 2 IKEA bookshelves, one is only 14" wide x 14" deep, the other is 2' wide by 14" deep and I'd really like to have at least one of them in the room! After all I'm planning to do sort of a book/alphabet theme!
The room has 2 closets along one side, and a window that I want the glider by on another side, so I'm limited on where the bed can go.
Here is the layout I came up with that includes the basics (bed, glider/ottoman, floor lamp, end table and crib) along with the wood dresser and smaller bookshelf.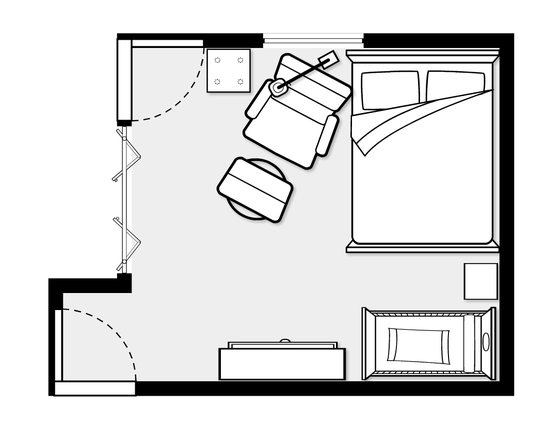 Here is the layout that includes the basics (bed, glider/ottoman, floor lamp, end table and crib) along with the Sundvik changing table and the larger bookshelf.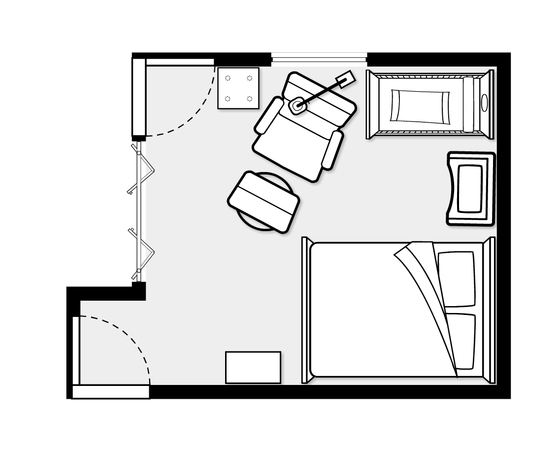 Thoughts??? Ideas???
P.S. I made those layouts using Urban Barn's Online Room Planner. Pretty neat, huh?!
posted August 26, 2013