Baby Herschberger: Week 21
IT'S A BOY!!!!! Man-oh-man it is fun to know we're having a son and since we have a name picked out we can start calling him by his name - Simon Joseph Herschberger! Kyle's grandpa was Simon J, and Kyle's middle name is Joseph. We'll call him Si like they did grandpa.
The whole week was really just building up to the ultrasound on Thursday and the party on Saturday. I worked on stuff around the house and got a few projects finished, the garage cleaned, my craft room cleaned (again), and everything purchased and ready for the party!
I think the highlights can be summed up in these pictures.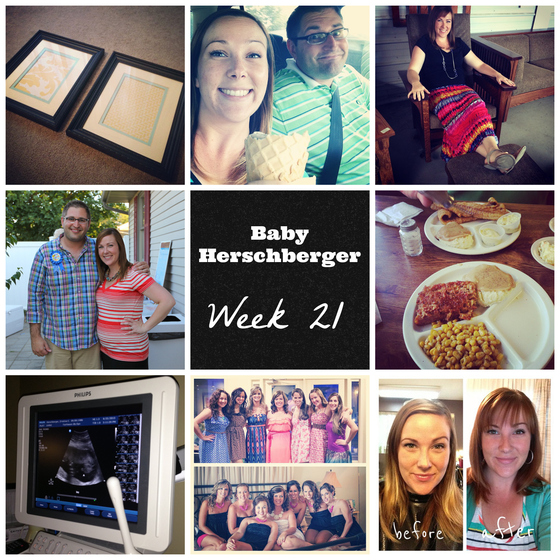 Clockwise from upper left:
I finished a little crafty project, I had spray painted the frames, took out the original art, took the mat's apart and painted the inner one aqua, picked out yellow scrapbook paper from my stash and put it all together! I planned on using them upstairs on my gallery wall, but they looked so perfect in our room that I decided to put them there!
On Tuesday night we dropped Kyle's bike off at the bike shop to have a few things adjusted. The bike shop is across the street from The Chief so of course I had to run over and grab a cone, I mean they're only going to be open so much longer for the season! I was being goofy in the car and Kyle said "I just give her ice cream and put her in the car and she's so happy! I just drive her around…"
We ordered our big baby room purchase - a gorgeous, handcrafted, quarter-sawn oak glider and ottoman! I really wanted a glider, but hated all the run-of-the-mill gliders and absolutely fell in love when I saw one of these mission style gliders in a local store so we shopped around, found a great price and placed the order! I got to pick the fabric and went with a really pretty aqua and tan fabric, this picture isn't a great representation but at least you can get the idea.
The day we went out to order the glider we also had a lunch date in Shipshewana, at the Auction Barn Restaurant - yum!
Thursday morning I had a hair appointment and got a trim, color and bangs! I really like it, was ready for a change from the summery ombre and needed my bangs back.
I finally posted pictures from Keri's wedding weekend! I had the honor of standing up with a dear friend from Word of Life when she got married in July and I had a bunch of pictures of us girls that I needed to share! :)
The ultrasound! Kyle snapped a pic after she had identified the gender, which she did very nonchalantly, just "that's a scrotum and a penis"!
Lastly a picture of Kyle and I at the party. I'll do a whole blog post just about the party eventually. But in the meantime you can watch a video that has a clip of the reveal and pictures from the whole party!
Now, I'll do the pregnancy update.
Weight gain: 8.26.13 Update: I have gained 8lbs total since I got pregnant.
What I've been eating: Haha. The Chief twice this week, when we dropped Kyle's bike off AND when we picked it up. Otherwise nothing crazy.
Baby/pregnancy purchases: The glider/ottoman is our biggest baby purchase and we ordered it this week! It will take around 10 weeks for them to finish it.
Babies growth and development status: According to "The Bump" app baby Si should be the size of a pomegranate, 10.5 inches and 12.2 ounces. But according to the ultrasound Si is measuring a little bigger! Most measurements were a couple days to a week ahead, the head was over a week ahead, and he already weighs 1 pound! He was not moving much in the ultrasound (despite the fact that I drank a little caffeine, something I've practically sworn off, in hopes of making sure he wouldn't be too modest!). The tech even jabbed him a couple times trying to get him to move an arm or a leg.
Just a few pregnancy ramblings this week:
I am really looking forward to being done working. I am ready to focus on my family. Getting the nursery ready, keeping my house in better order, working to keep our household costs down, traveling with Kyle whenever possible… I only have 2 more months, and I'm sure it will go fast, but I wish it was sooner!

I got my camera this week! I am so excited! And I'm only $30 away from having enough mula to get my first lens (a 1.4 50MM). Simon is going to be a well photographed child! I priced a newborn shoot with a photographer I like and while her price was not at all unreasonable, especially considering the quality of her work ($500), I decided I don't want spent that much money and I will just see what kind of pictures I get!

My belly sort of looks smaller than it did last week or the week before! Here's a picture my mom took at the party yesterday (left) and one that Kyle took today (right).
posted August 25, 2013