Baby Herschberger: Week 20
EEEP! This week I have my ultrasound and we find out if we're having a son or daughter! I'm also looking forward to them checking the baby over thoroughly and doing measurements and maybe adjusting/solidifying my due date.
That goes down on Thursday, and then on Saturday we're having a birthday party for Kyle combined with a gender reveal party, so I'll be spending the next week getting ready for that! I'm really looking forward to having friends over to hang out and celebrate with us, and see our house!
But, I'm getting ahead of myself, I need to talk about this past week! As always, a busy week. I'm still working full-time (through the end of October) but I'm also doing side projects here and there, working on stuff around the house, spending time with family and friends whenever I can, and hanging with my cute hubby!
Some free time was spent editing photos from the 2 photo shoots I had last week. I'll do a separate blog post or two on those. I was super busy at work getting ready for Welcome Weekend. Kyle and I had deee-licious BLT's and corn-on-the-cob two nights in a row. Our neighbor Norma brought us some tasty casserole at lunch one day. Mom and dad (Herschberger) came over and helped with a few little projects around the house. I got everything I need to make my own laundry soap. We signed up to do Financial Peace University again (we focused on debt the first time around and were debt-free within a year, now we're focused on the next steps - savings, investing, retirement, etc…). We did our budget for the month and cut back our total spending a little! That's sort of the week in a nutshell.
Saturday and Sunday were a little more exciting. Saturday Kyle was working a show in Richmond, IN and I worked Welcome Weekend for 4 hours. I crashed when I got home, slept for awhile, woke up grumpy, but eventually snapped out of it, put on a dress, and Kyle took me to the Oakwood in Syracuse for a late dinner! I have done 2 photoshoots at this gorgeous, recently refurbished/reopened hotel and have been wanting to try their restaurant. Well, they did not disappoint. I had the BBQ burger and it was awesome - the best part was the candied bacon, it was seriously candied and quite sweet and I thought it set the burger off perfectly. For dessert I got some sort of chocolate-chili mousse thing and it was awesome too!
Sunday I got up early (6am, over an hour before Kyle!) and showered and got ready so we could get up to Michigan in time to hear my dad preach at my home church, Countryside Bible in Jonesville. It was really great to be with mom and dad and see my church family. We had a nice lunch afterwards with my parents, my dear friend Michael and his parents, and a college student they brought to church with them. Good food and good fellowship! Mid-afternoon we headed home, I napped on the way, woke up grumpy again, is this a new thing? Haha :) Anyways, after we got home I got stuff around and headed down to Winona Lake to do an extended family photoshoot. Now I'm home, and it's time to wrap this up and get ready for bed!
But first, the pregnancy update.
Weight gain: Up 1.5lbs this week which means I'm up 5.5lbs total from pre-pregnancy weight.
What I've been eating: Got my ice cream fix today when we stopped at DQ on the way home, but otherwise I've been eating a little better :)
Baby/pregnancy purchases: More maternity clothes, hurrah :) Haha, I am loving the maternity clothes, feeling cute and being comfy is a good thing. I got some things online from Target.com and they all arrived and are super cute, and I picked up some things at Carson's on sale. Also, the Snoogle has made it back into our bed and I really like it again. I've noticed my heart racing if I lay on my back, and I've read that it's not good to lay on your back after the first trimester, so the Snoogle helps me stay comfy on my side.
Babies growth and development status: Baby is the size of a banana or small cantaloupe depending on which app I look at, about 6.5 inches long, and anatomy-wise we can tell (if baby cooperates) what gender it is at our ultrasound next week!
Random pregnancy ramblings:
Since I haven't been nauseous the worst things about pregnancy have been my constant congestion, which has been greatly remedied by Claritin every day, and my recent constipation, which has been greatly aided by fiber pills. Thank goodness for ailments that can be remedied.

I went out with my friend Becca on Friday night and wore a maxi skirt and a tight striped tank top as to "show off" the blossoming baby bump. I actually washed the outfit quick on Saturday night so I could wear it to church this AM and both Friday and today I had my fair share of people touching my belly! I don't mind though, so far it's been people I know and it doesn't bother me one bit. Kyle joked this morning that was going to charge a nickel for a tummy rub and it would go towards baby's college fund.

In addition to the tummy rubs I'm noticing that a lot more people come up to me to chat when my bump is visible. Friday night out at St. Regis Club, Saturday at Welcome Weekend, and today at church (and Meijer this evening) I talked to a lot of people! About my due date, how I'm feeling, if it's a boy or a girl, future plans, etc…
Alright, it's almost 10pm and I have a had a LONG day. I'll close with a little collage of pics from the week.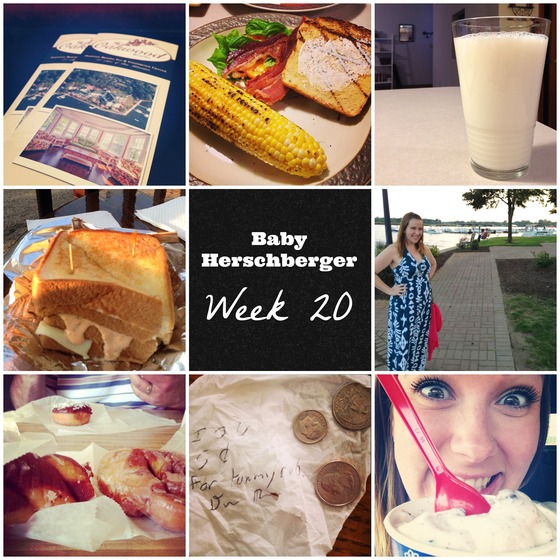 Clockwise from top left:
When I dropped of a disc of photos at the Oakwood I noticed one of my shots from my first shoot with them was on their brochure, hurrah!
A picture of the delicious corn/BLT meal that Kyle made us twice this week.
Milk. I love it.
Kyle snapped a pic of my at the Oakwood on Saturday night.
Me and my delicious blizzard from DQ today!
Some tummy rub earnings and an IOU written on a tissue.
We had a donut feast at Tom's in Angola on the way to church this AM. SOOO good.
That's the burger I got at St. Regis Club (a food truck called "The Silver Tongue" was there on Friday night). It is 2 grilled cheese sandwiches with a burger in the middle. Over. The. Top.
posted August 18, 2013