Baby Herschberger: Week 19
So, my main baby thoughts lately have been the countdown to when we have our ultrasound and find out the gender. As of today it's just 11 days! I am so excited to see the little gal or guy that's swimming in my stomach!
We've had a busy and fun week with some late nights. We're used to being in bed around 9:30, so staying up till 11ish most nights (and 1am one night!) made for some sleepy days!
The highlights for the week were:
Dinner with our neighbors - we met our neighbors last week and are super excited to be neighbors/friends with them! They are our age and also expecting their first child! We went out for Mexican and ice cream on Wednesday and had a blast getting to know each other. Getting ice cream at the Chief was my special request, I can't get enough of it :)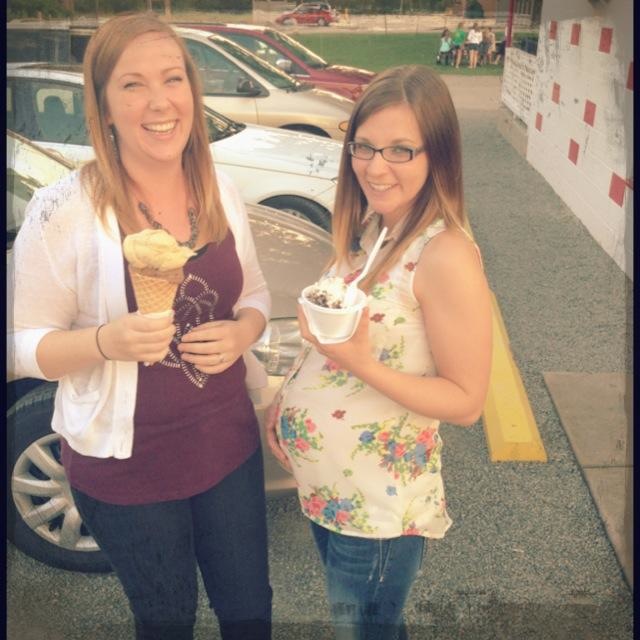 Birth Center orientation - Kyle and I both really enjoyed orientation at the Goshen Birth Center and are excited to give birth there! I've loved the idea of a natural birth, but have still been a little nervous about it, but after hearing more about the Birth Center, and hearing/thinking about the fact that me not being medicated means the baby won't be medicated and we'll have a much better bond and latch right off the bat made me feel so good. We were surprised to hear that the Goshen Birth Center is one of only two in the whole state, I feel so blessed to have this amazing place so near to us. I'm excited to be able to have loved ones at the Birth Center and they'll have a comfortable space to hang out. I'm excited about the water birth, the birthing stool, the homeopathic remedies, the fresh baked bread… all of it!
Midwife appointment - I was a little nervous about this appointment because I was meeting with a different midwife (since I have no idea which midwife will actually be there for the delivery, I'll meet with all the midwifes throughout the pregnancy so I know them), and it was time for my diet review. I kept a food diary for 3 days and then we went over it, and she was really nice to me :) Of course I need to eat more veggies, and a little more fruit, but she said I'm doing pretty good! We also talked about my mild asthma, which is the only thing that could possibly make me "risk out" of being eligible for the Birth Center. I expressed (as I always do) that I think it's anxiety related and the midwife was really great, asked a lot of questions, and gave me a homeopathic anxiety remedy to try. And of course, I got to hear baby's heartbeat - 148bpm!
Kyle's birthday present - this year for Kyle's birthday he wanted to go to the Hillsong United concert in Fort Wayne with friends from our old church. So the Sprankle's, Nightingale's and us met up at a Comfort Suites where we had a fun rooftop pizza party, and then 4 of the adults went to the concert, and 2 of us (Nicole and I) stayed at the hotel with the 5 kiddos. It was so much fun! Our room was off the rooftop balcony, so we had the pizza party there and hung out there after the concert when the kids were all sleeping. We went swimming that night and in the morning. We did crafts, painted nails, and did a peel-off face mask. And eventually we tucked in for a movie! Such a good time with such good friends.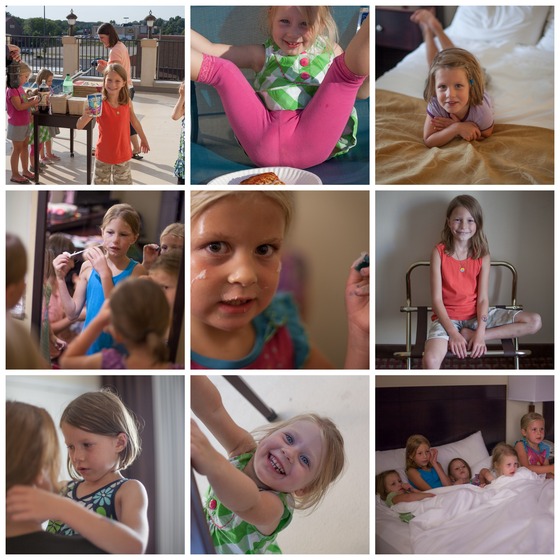 Photoshoots - I had 2 photoshoots this week, one at the gorgeous Oakwood Resort in Syracuse, IN where I shot 7 of their 12 suites (each one unique and so fabulous) as well as some other indoor and outdoor spaces. And the other photoshoot was with the Chapman family, friends of ours that have an adorable little guy, Rudy. Both were a lot of fun! I'm soooo close to buying my own equipment (it has taken a long time since I've just been saving $5 here and $50 there, mostly from selling stuff we didn't need) and am so excited. I'm planning on getting a Canon 5D Mark II, a 50MM (1.4), and a nice wide angle, probably the same 16-35MM we have at work. I used the long lens today (70-200MM) and got some great shots with it, so that might go on the list too, but it's pricey, so it'll be down the road a bit. :)
Onto the usual questions.
Weight gain: 8/12/13 update: same as last week, 4 lbs above pre-pregnancy weight. This is good! I need to be careful, a healthy goal for me is to gain an average of only 3lbs per month for the next 5 months.
What I've been eating: Well, I suppose I should mention that I had ice cream from the Chief twice last week. I love it. That's all. Must eat more vegetables.
Baby/pregnancy purchases: I cheated a little, the clothing budget was gone for the month, but we have a baby envelope, so I took from there to get myself a pair of maternity jeans, a basic black maternity t-shirt and a pretty maternity maxi dress that was on sale, all at Target. I am super excited about the maternity jeans! I can still wear my regular jeans, especially with my bella band, but the 2 pairs that I really like that fit me well are long jeans that I wear with heels. My new maternity jeans are a more reasonable length that I can wear with flip flops and flats :) And I really like the full panel! Even though my baby bump is pretty small right now, the jeans stay up great and I love that it gives me a smooth silhouette without a bulky stretchy band.
Babies growth and development status: Baby is the size of a mango, about 6 inches long, and is developing a greasy, white, protective coating called vernix caseosa.
Kyle took a few bump pictures for me today when I was setting up for the Chapman's shoot at Krider Garden. Here's one of me, and one of us!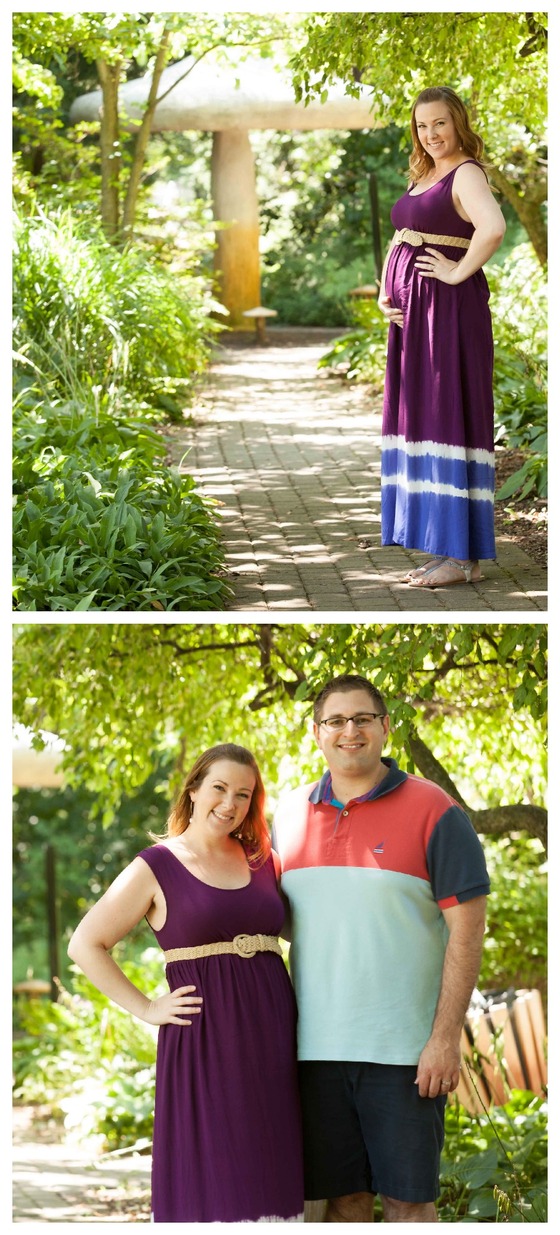 posted August 11, 2013