Baby Herschberger: Week 18
I had such a wonderful week with my mom! She arrived late last Friday and was here all week. We crafted, watched some movies, went shopping, and mom fed me real good! Maybe all that good eating is the reason my belly expanded so much this week, or maybe the sweet potato sized baby in my belly is finally deciding to show up!
I worked from home on Monday and Tuesday so we got some crafting done. Like… flag bunting for our party later this month, plus I finished the cutesie menu for the party. Tuesday we took a marathon shopping trip and hit Goodwill, Hobby Lobby, JoAnn Fabrics, Michaels, and Lowe's. At Lowe's I got a quart of paint in a lovely aqua color (Valspar Crystal Aqua, 5006-7B), and when we got home that evening I set out to tackle a big job - painting the strange nook we have. Since it is a very strange nook indeed I had to climb into it to paint it, mom took this picture.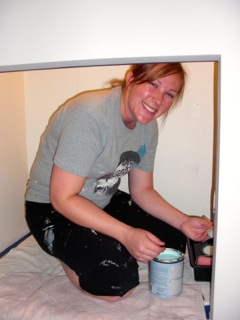 Wednesday I went to work, but when I got home I tackled another project I've been wanting to get done, a large canvas to hang over our bed. We don't have a headboard so I wanted a big piece, also we don't have much color in our bedroom, just lots of greys and black so I wanted to add some color with this. I already had a big canvas that I've had since high school that said "Puttin' on the Ritz" so I painted over that with white house paint, and then Wednesday night it was time to add some color! I tossed around some ideas that I'd found on Pinterest and finally settled on a herringbone pattern that involved first painting on whatever colors you want in whatever abstract pattern you want, so Wednesday night I did that step. I did finish the canvas today, but I want to get it hung before I take completed pictures. I'll probably do a separate blog post just for this project.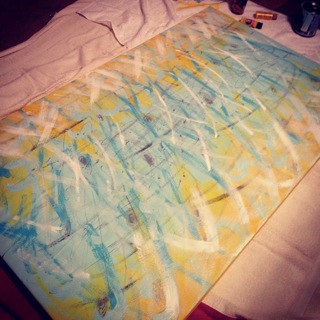 I am stepping away from my full-time job to be a stay-at-home wife/mother and my work is looking for a replacement. The posting went online a few days ago and I finally checked it out and posted it to my Facebook page on Thursday. I have asked to be done working by the end of October at the latest, but if they find a replacement for me and we can get them trained then I will finish up sooner. I love my job and I'll miss it greatly (especially the people), but I'm looking forward to staying at home. Here's my job listing if anyone is interested or might know someone who is interested! Marketing Project Manager for Brandpoet at Grace College in Winona Lake, IN
And Friday was the beginning of Smagala Bash 2013! Every year Kyle's moms side of the family, the Smagalas, gather at mom and dads (Ann and Terry's) for a campout. We have activities, food and tons of fun! This year Kyle borrowed a big travel trailer from work and Friday night we stayed in it with Lee, Stacy, Kaylin and Dani (brother-in-law, sister-in-law and nieces). Even though the trailer was super awesome, the beds were not so comfy, so I had a pretty uncomfortable nights sleep. I think everyone suffered except for Dani who absolutely loved her bunk!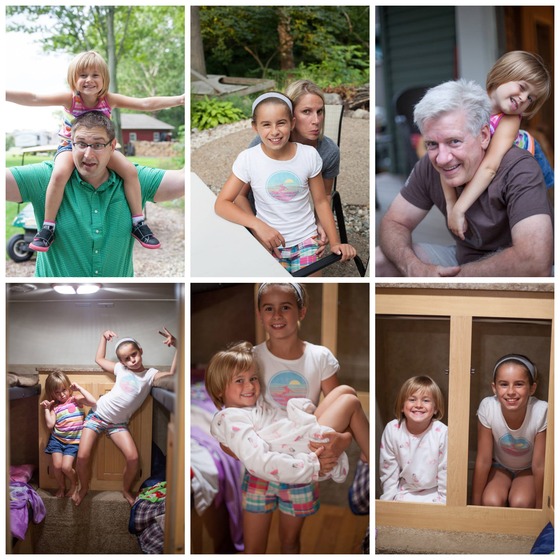 Saturday we started out with a ride on the Pumpkinvine to Shipshewana and back - around 12 miles. It's an easy ride so I made it and had fun but boy-oh-boy my caboose was sore afterwards! A day later and it still is a little bit!

The rest of the day involved crafts, napping, eating, the "ice cream truck" golf cart, campfire, s'mores, fireworks, and sky lanterns. We were exhausted by the end of the night and slept a lot better in mom and dad's camper thanks to their comfy mattress!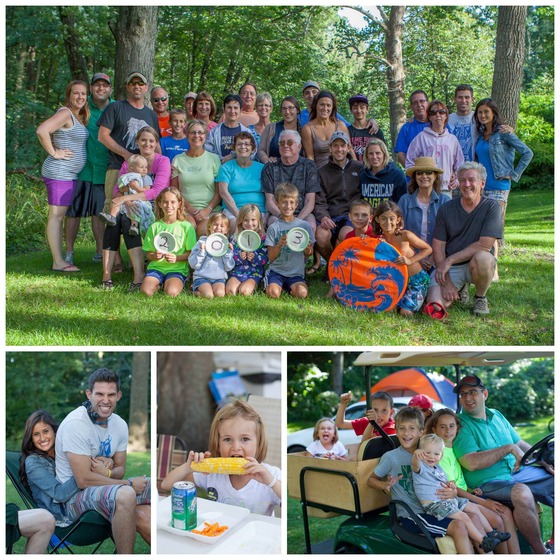 Random highlights from the weekend are:
Brewster. That dog is hilarious and ridiculous. On Friday night when we all went in the camper he came in, but he doesn't like hard floors so we stayed all 4 paws on the little rug by the door and wouldn't step off it. Then Saturday Colin was trying to play with him and Brewster had the biggest stick in his mouth and of course wouldn't let Colin have it to throw it.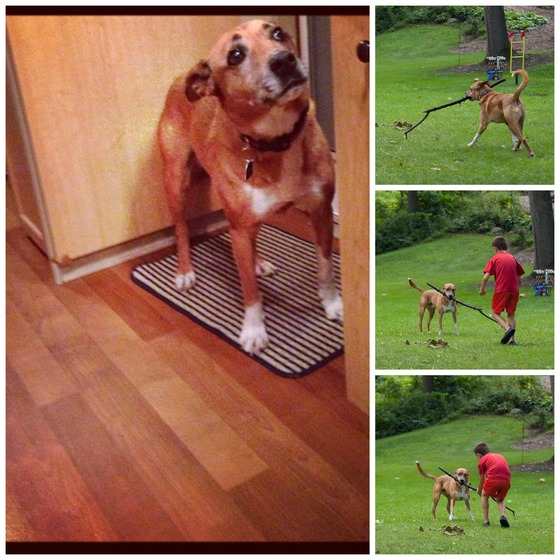 Grandma (Busha). We celebrated grandma and grandpa's birthday and gave them a digital picture frame that everyone had given photos to be loaded on and grandma just loved it! I love the joy she has, it's infectious! Here they are receiving it and watching it.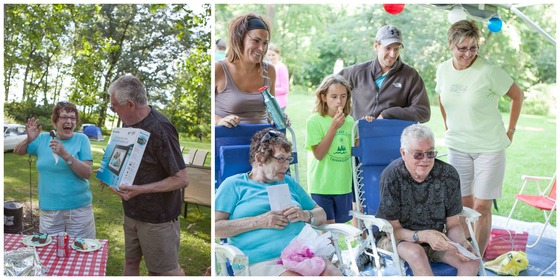 And now for the baby update:
Weight gain: 8/6/13 update: the weight gain has begun! I actually gained 4 lbs, so with that said, it might be time to be a lot more conscious of all the carbs and ice cream I've been eating. :)
What I've been eating: All sorts of stuff! I'm less picky and more hungry!
Baby/pregnancy purchases: I spent the clothing budget for the month (which runs 15th-15th for us) at the outlet mall last weekend, so no new maternity clothes, and nothing else baby related either this week.
Babies growth and development status: Baby is the size of a sweet potato, about 5.6 inches long, and is yawning, hiccuping, sucking and swallowing.
And I'll leave you with a bump picture! Cousin Amy is also expecting (#2 for her) and is 26 weeks so we had to get a bump pic together. :)
posted August 4, 2013