Baby Herschberger: Week 16
After feeling crummy last Thursday-Saturday I felt a lot better on Sunday! We went to church and stayed after for a Deck Party, it was fun getting to know some more people. Kyle flew to Tennessee on Monday, back on Tuesday. I worked from the office Monday and Wednesday, from home Tuesday and Thursday, and took Friday off!
Highlights of the week are:
Tuesday I got the invites for the party (gender reveal/Kyle's birthday) back from the printer and got them in the mail! Mailing them took 5 times as long as it should have because of the road construction in downtown Middlebury. Ugh.

Tuesday afternoon when Kyle got home we went out galavanting on "date night" and hit up JoAnn Fabrics for fabric to make bunting for the party, then to Hobby Lobby where I got a big basket/crate thingy where I can dump my computer bag and purse instead of just having them lying everywhere, Hunter's Place for dinner, and The Chief for ice cream on the way home - YUM!!!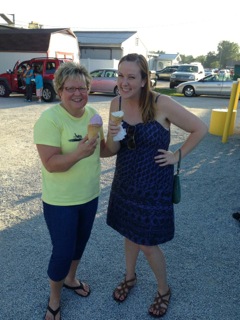 Wednesday we had dinner at mom and dad's (Herschbergers) with Lee, Stacy, Dani and grandma Herschberger.

Thursday Kyle made a yummmy salmon dinner and mom (Ann) stopped by for a bit after her haircut. I also cleaned the house pretty good that evening, including putting away the mess in my craft room.

Friday was quite the day! I putzed around in the morning getting ready and sending work emails, then it was on to the main event of the day, seeing "Half-Stitched: The Musical" at the Blue Gate Theater with mom and dad (Hoyt), grandma Hoyt and her neighbor Margaret, Aunt Rita, Uncle Alan and Aunt Sharon, and 2 ladies from my home church (Countryside Bible). Before the show I got to show our house to the ladies from Countryside, and afterwards grandma, Margaret and Aunt Rita came over! It was a really fun time with everyone and the show was really cute.
Friday evening we trekked back to the Warsaw area and went to Thirds in the Burg at our old church - Leesburg Grace Brethren. It was so fun to catch up with people! We also stopped by the Sprankle's later and chatted with them some more.

After a late night out I slept in till 10am!! It felt so good! We had a pretty lazy day, except we did go shoot photos of a 5th wheel and Model A that we're going to sell for a local guy (Kyle sold another Model A and a motorhome for him previously). We also went to see a movie for the first time in forever, we saw "The Heat" with Sandra Bullock and Melissa McCarthy, neither of us liked it very much, it wasn't very funny.

Today is free day at the fair and we're going in a little while! I think sister-in-law Stacy and niece Dani are going to join us. :)
On to the update.
Weight gain: I gained 2 lbs, and since I lost 3 last week, I'm still 1 lb down from pre-pregnancy weight.
What I've been eating: Ugh, just junky carbs. Definitely not enough healthy stuff. I picked up two cookbooks from the library this week that I need to look at. I really need to start eating more nutritional food.
Baby/pregnancy purchases: Nothing this week, although I did kick the Snoogle to the curb temporarily. It was great at first but then started just bugging me. I'll try it again in a few weeks. I think it did help me stay comfy on my side because since I haven't used it I wake up uncomfortable on my back a lot.
Babies growth and development status: Baby is the size of an avocado, about 4.6 inches long, and is growing hair, eyelashes and eyebrows. Baby can supposedly hear us so I guess I should start talking to it. ;)
Other randoms:
I've been reading that anytime between now and 20 weeks I will be able to feel the baby fluttering around in there, exciting!

I usually wear sweat pants to bed, and the waist band will not stay where it should anymore, it migrates down and gets stuck below my "bump" (not much of a bump, just a belly!).

Now that people are receiving the invite to the party it seems everyone thinks that we know the gender already. We do not know the gender, we don't have the ultrasound until 2 days before the party and gosh I hope the baby cooperates!!! Also, some think the party is a baby shower. It's not. It's just a party for our friends to come to and enjoy - don't bring presents!

When we saw people at Leesburg that we haven't seen in 2 months (since the day we announced we were pregnant and moved to Middlebury) a lot of people were looking for a bump, but there's nothing really to look at yet! Just a slightly larger than normal belly!
That's all for now :)
posted July 20, 2013