Baby Herschberger: Week 12
One more week and I'm done with the first trimester! Hoping to get some energy, I have really been dragging, especially on the weekends when I'm not just sitting at a desk most of the day. I get tired and head-achey by midday when I'm out running errands or just out doing stuff that's out of the norm. I had a pretty productive week though! Making progress on the house, we sold the truck, and we might be buying a family/towing vehicle tonight!
Kyle was in Florida some of last week so I spent my evenings working on the house and finished going through the stuff we'd piled in the screened-in porch — donated a bunch to Goodwill and put some stuff on Craiglist. I also hung some pictures inside and tried to figure out what to do with a couple of blank walls. Decorating is fun, but after we decorated the last house so quickly it's hard for me to be OK with taking my time on this one, I just want it done! However, I also want it to be more "us" and more current. Decorating the last one went fast because we just bought stuff that looked good together, not necessarily stuff that we both loved.
Over the weekend I helped with the Grace College booth at Friend Fest, a music festival in Nappannee. It didn't go completely as planned, but we still made a big splash. I especially enjoyed the temporary tattoos we had made, like the mustache one that is SO adorable on children!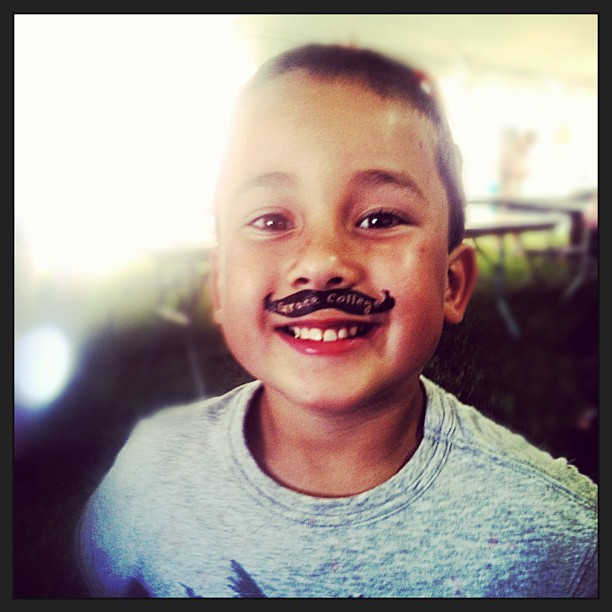 Alright, baby update:
Weight gain: I weighed myself the day after I posted last week and was holding steady at pre-pregnancy weight, weighed again today and it was exactly the same as last week. This is good news considering I have a bridesmaid dress to fit into in 9 days!
What I've been eating: Oh man. I crave Wendy's for lunch when I'm working from the office, and I've given in a few times (jr. bacon cheesburger with mayo/onion, small or medium french fry and honey mustard to dip everything in).
How I've been feeling: Still tired, still overwhelmed with things to do.
Baby/pregnancy purchases: The Snoogle has been ordered!
Babies growth and development status: Baby is the size of a large plum and is developing reflexes!
Now, since this post is late, I'm going to start writing week 13 right away!
Tina
posted June 24, 2013