Baby Herschberger: Week 11
Another busy week gone by… I am looking forward to things slowing down at work (and me eventually being done working) so I can spend more time taking care of the house, taking care of and spending time with Kyle, and prepping for the baby! In the meantime, it's a super busy time for Kyle and I. I've been busy/behind at work for what seems like forever now. It's hard to catch up when I have a 10 minute conversation with a co-worker and turn around to 16 new emails! Kyle is busy traveling and building his dealer base, this week he goes to Florida, next week to Texas!
This past weekend Kyle and I went to his cousin Kelsey's wedding on Friday night, it was at the Old Train Depot in Pierceton, IN which we love! It is a really cute place, especially for weddings and events. Kyle snapped this picture of me before we left.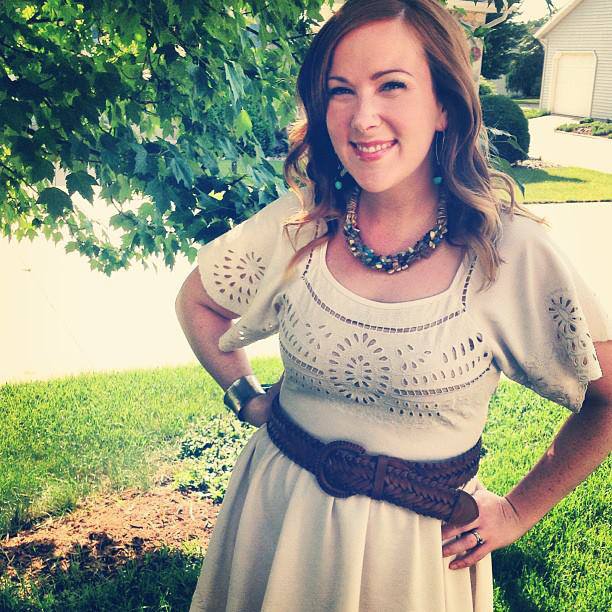 Saturday we (mostly I) slept in and then hit the road with errands to run and a list to check off. We accomplished most of what we set out to do, only the BMV was closed which means updating our address on our licenses and finding out where the license plate for the truck we bought is will wait until tomorrow night! We went to Lowe's and got some things I'm very exited about! A hollow-core door that I'm using as a desktop in my craft "room" (the other half of the large basement area where our bedroom is), I have an old pedal sewing machine as the base on one side, and a trestle from Ikea on the other side. And my other exciting purchase was some fresh herbs! I wanted basil and mint and maybe something else, I ended up with Sweet Basil, Grapefruit Mint, and Chocolate Mint!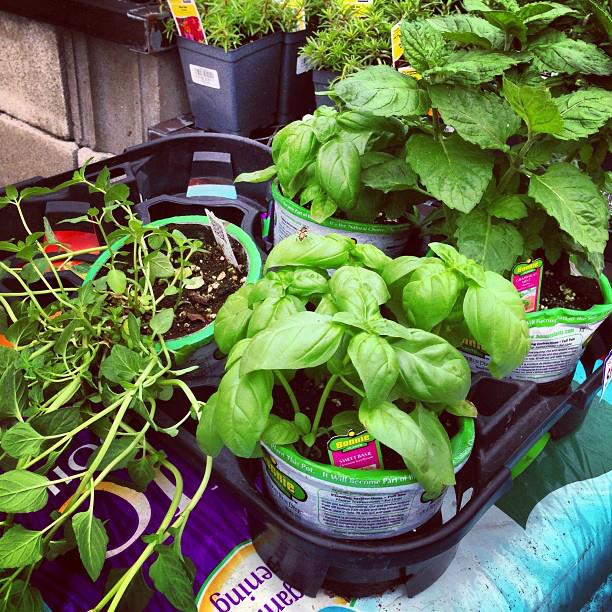 When we got home from errands we were both sooo tired, so Kyle took a nap and I lounged on the couch watching TV and doing laundry. The rest of the day was not productive, but it was so nice spending time together, I really enjoy our weekends! Sunday morning I woke up hungry and craving pancakes, so I made my favorite high-protein blueberry pancakes.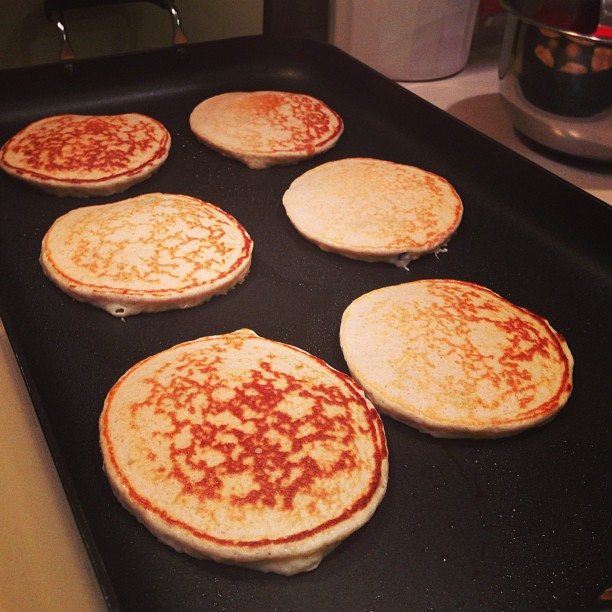 Then we made our way down the road to check out a local church and we really enjoyed it! We got to chat at length with 2 different couples and the pastor, really enjoyed the worship and sermon, they have a lot of things that encourage community going on, and we signed up for a deck party in mid-July! The sermons series was just beginning that week and it was on loneliness, the introductory week looked at the story of Elijah and how lonely he was after Jezebel threatened him, and how God cared for him. The pastor also talked about how we are all going to experience seasons of loneliness and what we do in that season is important - hunkering down and toughing it out isn't the right approach, but rather taking advantage of the time to get out and do things, and to deepen your relationship with God is important. I thought it was a great sermon and also see that I could be entering a season of loneliness when I am home with a newborn and Kyle is in the midst of his busiest travel season. It could be a season of loneliness for both of us as we adjust to this new little person in our lives.
Well, on to the baby update!
Weight gain: I haven't weighed myself lately, but my clothes still fit fine even though my belly is pooching out a little. I'm going to try to remember to step on the scale tomorrow.
What I've been eating: Definitely craving junk food and sweets more than before, I used to never crave dessert… But I try not to give in too often :) I tried packing a lunch for work today and once again eating what I wanted at the moment won and I got Jimmy John's (with the lunchmeat on the side so that I could microwave it, I try to do the "right thing").
How I've been feeling: I am TIRED again… and just feeling rather overwhelmed and behind on a lot of things at work and at home.
Baby/pregnancy purchases: I got my BellaBand today! Don't need it yet, but it's here when I do! My next purchase is going to be a maternity pillow, probably the ridiculously named "Snoogle" because it has better reviews than the other ridiculously named "Boppy". I just haven't been sleeping as good as normal and most of the time I'm not sleeping I'm fighting with my pillows to get comfortable.
And I'm adding a question.
Babies growth and development status: The baby is almost past the beginning stage where all the vital organs and whatnot are forming - it's about the size of a lime or large plum! And I'm almost past the exhausting first trimester!
That's all she wrote…
Tina
posted June 17, 2013