Baby Herschberger: Week 10
I always wish I blogged regularly… and then never do… Well, maybe just maybe documenting our rapidly changing lives will inspire me to post more regularly.
In the past 8 weeks Kyle has taken a new job, we moved to Middlebury, and we found out I'm pregnant!
OF COURSE the most exciting part is the baby, but we are awfully excited about all 3 things. Kyle really likes his new job (Regional Sales Manager at Venture RV) and moving to Middlebury makes his commute short (just 7.5 miles up the road) and it will make the arrival of Baby Herschberger better as we're now just 3.4 miles away from Kyle's parents.
We were so blessed to find a wonderful home to rent - we're renting from a family friend and it made the whole process a lot easier. I'll post pictures of the house as we finish rooms, and I'll hopefully post some DIY's as I'm doing some redecorating from what we had done in our old house!
I am working from home 3 days a week and 2 days a week I am driving an hour to work. I really enjoy little things about working from home - like doing laundry! And seeing my husband at lunch time!
We found out about Baby Herschberger on Friday, May 3rd. I was one whopping day late and decided to take a pregnancy test for fun, not expecting to be pregnant AT ALL. So after work I stopped at CVS on the way home, grabbed a test, went home, peed on it and then proceeded to freak out. Excited freak out, but freak out none-the-less. I sort of didn't believe it because it was a different test than I'd ever used before so I went back to CVS and made the pregnant cashier verify it for me. I needed an experts opinion. She said "You got it dude!" to which I said, "I need another test." So I bought a digital test, ran home, chugged some liquid and impatiently waited to pee again. Well, that one spelled it out for me with a loud and clear "pregnant"! Then I had to wait for Kyle to get home, he was coming home from a business trip and was returning his rental car in Warsaw. When he got home I was waiting for him in the doorway, trying to be normal, but after the basic "Hi" and "How are you?" Kyle said "Are you pregnant?" Haha, of course he would just guess it right away, he usually knows better than I do what's happening in my life/head/body!
The next few weeks were mostly just us being excited and telling our family and close friends. For the most part we waited to tell people in person, which meant we waited almost 2 weeks to tell my parents since they were coming back to the states on the 15th anyway. We picked them up at the airport with a big sign that said "Welcome Back Grandma & Grandpa", that was fun :)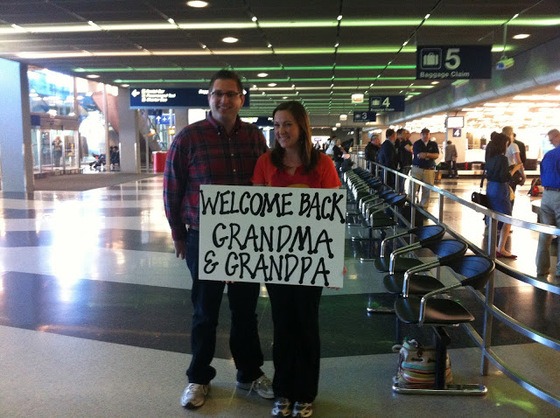 I also had some fun with my co-workers. I got a co-workers boyfriend in on it and at a staff dinner he volunteered to take a photo of the Brandpoet team, prompting everyone to "Say cheese!" on the first picture, and then prompting everyone to say "Tina's pregnant!" on the second picture, and then well, he just kept taking pictures of the reactions!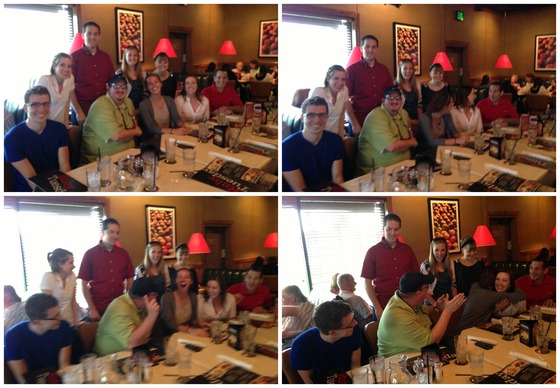 We've also:
Painted the nursery (which is currently the guest room) grey.
Gotten a consumerreports.org subscription so that I can see what cribs, strollers, etc… are the best value while being awesome and safe. I'd rather listen to one voice of authority than ask around, read a bunch of reviews, etc…
Tried to move past our usual joking about baby names that really sound like cat names. It's not going very well, good thing we have plenty of time to figure that out.
Decided to use the midwifes from Fairhaven Ob/Gyn and hopefully give birth at the Goshen Birth Center.
I had my first appointment last week and it went very well, I really like the midwife I met with and was dissapointed to learn there is no guarantee that I would have her at the birth, it's just whoever is on call, so I will meet with her for these first few visits to have some consistency, but when I start going more frequently I will try to rotate through all the midwifes to meet them. I got to hear the heartbeat at the appointment, that was very special! The midwife wasn't sure if she would find it and told me to not be anxious or dissapointed if she couldn't, but then she found it super easily! She said I have a well-placed uterus. When I told Kyle that later he said "I've always told you that!" :)
Well, I'm going to end this very long blog post with some Q&A's that MAYBE I'll update every week. I might regret the whole idea, or maybe just certain questions (ahem, weight gain, ahem) and quit randomly, we'll see.
Weight gain: So far holding steady, gained weight up top (fine with me!) and lost a little weight elsewhere. After this past weekend (immediate family get-together) of overeating I've developed what I'm calling a "pregnancy pooch". I've always had a belly, but my lower belly definitely pooches out more than did it before.
What I've been eating: Less than before! Even though I ate a ton this weekend, I probably ate less than I normally would have, and since before I even knew I was pregnant my appetite has been lower than normal. The past couple of weeks I get very hungry in between meals, but then I get full super fast. Mornings were a little rough for a couple weeks, but not terrible. Just didn't feel very good, didn't want to eat, but always felt better if I did a little. I've only thrown up one time so far.
How I've been feeling: In general, pretty good! Now, I was SUPER tired during commencement/moving weekend (moving during one of the busiest weeks of the year at work was maybe not the best idea) and I definitely get tired a lot easier, but other than that I've felt pretty good. Oh, and I'm emotional. Like, lacking in patience (mostly at work) and easily sent into a quick fit of tears (mostly at home).
Baby/pregnancy purchases: The arrival of the pregnancy pooch spurred me to order something I'd plan on getting anyway, a BellaBand. Hopefully this will enable me to wear a lot of my normal clothes long into my pregnancy. At the beginning at least, as soon as my pants stop zipping I can use a BellaBand over unzipped pants. I really hope it works! I'd love to avoid buying much maternity stuff.
That's all she wrote….
Tina
posted June 11, 2013